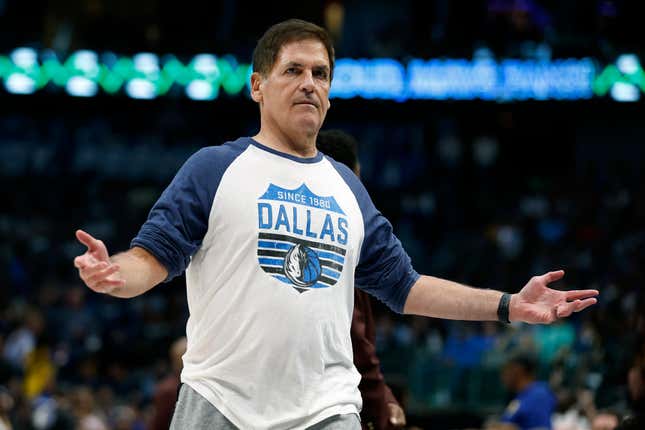 In today's edition of "Billionaires, they're just like us," Mark Cuban admitted to rejecting a chance to get in early on Uber and turn $250,000 into $2.3 billion. According to an appearance on a podcast nobody cares about, the Dallas Mavericks owner said he was approached with an offer that reflected a $10 million valuation, countered with one at half of that, and Shark Tanked his way out of a couple extra billion.
Top 5 football movies of the past 30 years
While I'm sure a lot of people can empathize with a missed investment opportunity, no one is really reading what I'm writing anymore because football starts in a week. That's right, Notre Dame and USC both have tune-up games Saturday, and it's officially game week. Who gives a fuck what words and spittle came out of Cube's fat mouth?
The wait is over and this time next week football will be here. Oh, sweet football. Never mind that four NFL players have been carted off in the past three days, or that Philly fans did the wave while one of their own was on a stretcher. Football is coming and there will be things to write about besides baseball, potential Damian Lillard trades, and the business missteps of Mark Cuban.
Speaking of which, Cuban said Uber cofounder Travis Kalanick never came back with an offer.
"He got somebody else," Cubes said, adding, "Whoops," because he already has billions of dollars and never had suicidal ideations over a missed fortune. If only I had gotten in on, and then gotten out of, Bitcoin, my life would be so much better.
I could buy a media company and do waterslide reviews as opposed to NFL previews during mid-August.
Your weekly Elly De La Cruz highlight
On Friday night, Shohei Ohtani clobbered a grand slam for home run No. 43, and not to be outdone because they're in an unofficial race for most exciting player, De La Cruz responded with an inside-the-park homer Saturday.
When De La Cruz reaches full speed, he tops out at about 30 feet per second, and that trip around the bases took all of 15.3 seconds. The Reds lost, 4-3, to the Blue Jays, and Cincinnati is now only a half-game up on Miami and Arizona for the final wild-card spot in the NL.
Deep cut rookie receiver to keep an eye on for fantasy purposes
Tampa Bay Buccaneer rookie Trey Palmer caught his second touchdown of the preseason, this one coming from Kyle Trask.
His first score came courtesy of Baker Mayfield, and with Russell Gage out for the year, Palmer is now the No. 3 receiver on Tampa's depth chart. Don't draft him solely because the Bucs' QB situation is radioactive, but it seems notable that each potential starter has found him for six.