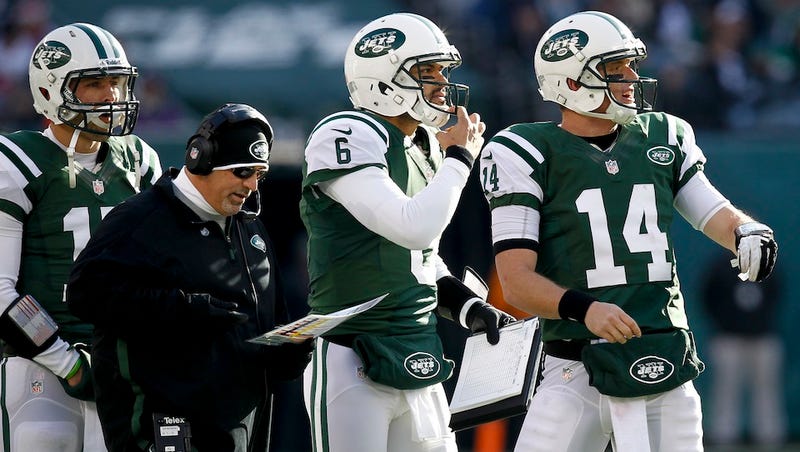 Last we checked in on the Jets' quarterbacking situation, Tim Tebow was a coddled malcontent who just wanted "to play regular quarterback." This came after Mark Sanchez, the man who permanently eliminated "poise" from the NFL lexicon, turned it over five times against Tennessee and was benched for Sunday's game against San Diego in favor of Greg McElroy, who played like he had no idea how to run an NFL offense, because he didn't. Oh, right, and Michael Vick was involved somehow. Let us risk psychic terror and check back in again:
Rex Ryan announced that Greg McElroy was being evaluated for a possible concussion and won't play Sunday against the Buffalo Bills in the season finale.

Bypassing Tim Tebow for the second time in as many weeks, Ryan said Mark Sanchez will start the game — yet another blow to Tebow, who has complained openly about his lack of opportunities this season.
[...]
On Thursday morning, McElroy developed a severe headache while lifting weights. McElroy, wearing a towel around his head, told trainer John Mellody of the symptoms. Together, they walked into Ryan's office around 9:30 to break the news.
Yes, this whole thing is about as Jets as it gets. A starting quarterback's concussion will not work the same magic for the Jets that it did for the Niners. Mercifully, Sunday's game against Buffalo is blacked out upstate, while other CBS affiliates in New York and Connecticut have decided to carry Houston-Indianapolis. Perhaps no one will have to see what actually unfolds.