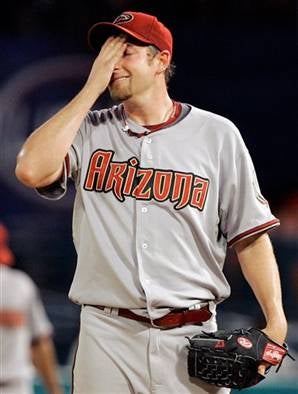 Somewhere in a third-world country, a child is wearing a Brandon Webb 10-0 t-shirt. It looks rather spiffy with his Patriots 19-0 Super Bowl hat, and his New Orleans Hornets foam No. 1 finger. To beat the most unbeatable of pitchers on Wednesday, Marlins manager Fredi Gonzalez called for the most desperate of measures: a suicide squeeze. Matt Treanor squeezed home Luis Gonzalez (who had tripled) for Florida's first run in the fifth, and the Marlins went on to beat the Diamondbacks 3-1, denying Webb the chance to be the third pitcher since World War I to go 10-0.
You remember World War I; or as Randy Johnson calls it, "The thing that postponed my rookie season." Ricky Nolasco allowed three hits over seven innings to win it for Florida. And all those gamblers who saw Wednesday's pitching matchup and still put money on the Marlins, well, you earned that payday, you crazy bastards. "I'm not going to go 33-, 34-0 probably," said Webb (9-1). "It was going to happen sometime. Losing in this manner, to a guy who pitched a great game, is probably a good way for it to happen." Webb left for a pinch hitter after allowing six hits and three runs in seven innings.
With Orlando Magic coach Stan Van Gundy in the stands wearing a Marlins t-shirt, Cody Ross homered (the third allowed by Webb this season) for Florida and and Stephen Drew did likewise for the Diamondbacks. Your Hanley Ramirez Update: Ramirez, who signed a $70 million, six-year contract extension Saturday, is 1-for-15 with 10 strikeouts in the past four games.
• Everything Must Go!. Word is that the Padres are about to have a fire sale. Catchers half price! Jake Peavy is already on the DL, and now Chris Young is most likely headed there after getting hit in the face by Albert Pujols' line drive in the third (he's OK). Pujols also knocked Josh Bard out of the game with a slide at home. Look, it will all be chronicled in the next Peanuts TV special: Now You're My Bitch, Charlie Brown! The Padres (17-31) are in last place in the NL West, have lost 12 of 17 games and have the worse record in the majors. The Cardinals got three RBI each from Ryan Ludwick and Troy Glaus, Skip Schumaker had four hits and Rick Ankiel had a two-run homer.
• So, How Soon Can We Have Instant Replay Installed? The umpires screwed up royally once again, this time taking away a homer from Alex Rodriguez (no!) in the sixth. Although replays showed the ball was over the fence, second base umpire Otis Taylor ruled it a ground rule double. A-Rod hit another one, though, and the Yankees beat the Orioles 8-0.
• It's A Dye Job. Jermaine Dye's go-ahead three-run homer in the sixth, and solo homer in the seventh, led the Blanca Stockings to a 7-2 win over the Indians, Cleveland's fifth straight loss.
• Wizard Cat Defensive Player Of The Day. Blake DeWitt, Los Angeles Dodgers. Two fine plays by the third baseman, but Wizard Cat must warn you that MLB.com is showing commercials in their highlight videos now, including one here for MLB.com Mobile Team Alerts. Wizard Cat is furious, and will likely claw someone's testicles in the very near future.
Contact Wizard Cat at Wizardcat@live.com