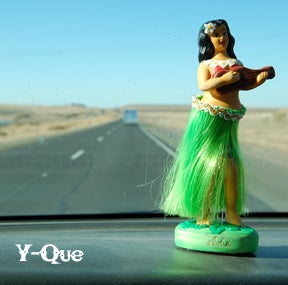 Amid the treacly tributes to "Kitty Litter" Leitch yesterday (even ESPN The Magazine had one!!1!!EXCLAMATIONMARK!!), we missed the news that Marshawn Lynch copped to that whole hit-and-run thing that happened in May and as a result had his license suspended. Apparently he wasn't aware he hit anyone, trying as he was to avoid a member of the dancing horde who fill the Buffalo roadways.
Granted, the running back hasn't been determinded to have been drunk but...
(Voice of Sir David Attenborough: Watch now as the noble ape performs a clumsy reach to conflate two tenuously connected stories)
Maybe if he used Safe Ride Solutions, a San Diego-based service that ferries drunk athletes home so they don't drive drunk, things would've turned out better.
(Attenborough: Astounding. Simply astounding.)
The San Diego-based service caters to professional athletes in more than a dozen cities nationwide. Its biggest local client is the San Diego Chargers.

For an average of $200 to $300, players who want to drink but not drive can be shuttled around town for the entire night, or they can merely call for a ride when they are ready to head home.

The team became the first in the NFL to offer the program to its players and staff in 2006 in hopes of avoiding alcohol-related arrests that have made for frequent headlines.
Kudos to you, Chargers. I mean, they probably have taxis in San Diego, but those aren't insular vehicles where athletes can avoid coming in contact with the unwashed masses. Ugh. The very thought!