Fresh off his BCS success (read: staving off mediocrity a little better than the rest of the Big East), Randy Edsall is the big man on campus in College Park. And while it's nice to feel wanted, Edsall appears to be the type to get drunk off the slightest bit of power. He's bringing in a heavy-handed set of rules and dress codes meant to emphasize the "Maryland tradition." But in doing so, he's gotten rid of one of the oldest and most influential Maryland traditions of all.
Ohtani has the WBC, but will Mike Trout ever lead the Angels to a championship? | Agree to Disagree
Among the new rules: physical punishments for lateness. No earrings. No do-rags or baseball caps. Neatly trimmed facial hair at all times. It should surprise no one that Edsall, he of the "military bearing," is a protege of Tom Coughlin. But what may work for Coughlin (and there are plenty of players who won't play for him) could be more problematic to 18-year-olds who like their baseball caps and beards and diamond studs.
Even more troubling is the new Maryland uniform, which does away with player names. He's full of platitudes about "playing for the name on the front" and how "Maryland will still be here when we're long gone." It sounds good: a team-focused look for a team sport. "I am not a name-on-the-back-of-the-jersey guy," Edsall says. But if you want to compete, really compete in the big-time world of college football recruiting, you've got to accomodate those who are name-on-the-back guys.
It's a huge deal for any player to receive his first jersey with his name on it. It means he's arrived. And while Edsall defends the change by saying he's trying to attract in-state recruits with state pride, perhaps he's overestimating their love of Maryland and underestimating their desire to make a name for themselves. Ralph Friedgen was fired because he couldn't take the team "from good to great." Edsall's edicts may make for some good character guys, but he's out to alienate the great football players. Because great football players have 64 other BCS programs to choose from, and most of those won't make them give up their style or individualism.
G/O Media may get a commission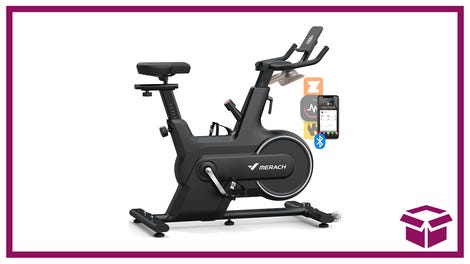 14% off + Coupon
Merach Indoor Cycling Bike
So let's get back to Maryland tradition. There's the team singing the fight song. There's players walking Terp Alley to rub the Testudo sculpture for luck. And older than both of those, a true Maryland tradition, is having names on the backs of jerseys. Maryland was actually the first college football program in the nation to identify players by name, a tradition that began 50 years ago next month. Personally, I thought it had served the program well these past five decades; certainly it inspired most other teams to follow suit. But no matter. Randy Edsall is in charge now, and Randy knows best.