Your morning roundup for Sept. 6, the day heroin mills went corporate. Photo courtesy of Mocksession. Got any stories or photos for us? Tip your editors.
Jokic? Embiid? The NBA MVP is obvious... right? | Keep it a Buck(et)
What we watched: Had a chance to visit the Basketball Hall of Fame up in Springfield, Mass., over the weekend. Neat place. And it's designed so that, as you make your way through, you end up at an actual court, where you have the option of shooting baskets before you head for the exit. If you haven't (ahem) worked out in a while, I wouldn't recommend doing this.
G/O Media may get a commission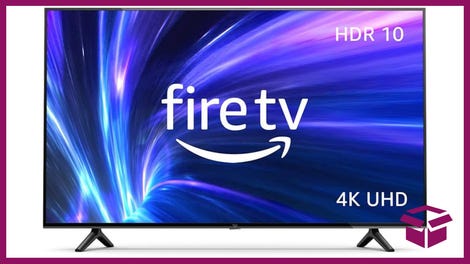 42% Off
Amazon Fire TV 50" 4K Smart TV
My basketball "career" consisted of an injured season on my high school's junior varsity and a fun year of semi-serious CYO ball, followed by some intramural clowning in college. I've since lived the sedentary life and haven't often done so much as pick up a basketball. It was striking, then, to realize how much effort it took to create the range of motion necessary to launch a jumpshot, not to mention how awkward it felt just to casually dribble toward the basket for a layup.
"I think there's a dead spot or two on the floor here," I said to my girlfriend's father, a retired small college assistant coach and athletic director.
He could see I was clearly trying to cover for my atrophied reflexes.
"Yeah," he said, smirking. "A dead spot."
For a few more minutes, I chased down a few caroms that rolled every which way around the gym in between firing off a few jumpers and free throws, some of which actually went in. All was fine until several minutes later, when my legs just felt weak and I really needed something to eat—problems I solved by eating candy and having a cocktail before dinner.
Lesson learned. That workout business is for the birds.
Things You'll Probably Read Today On Deadspin
• It's NFL Week here at Deadspin, so look for a post or two today about pro football.
• Tuesday is Funbag Day, and Drew's latest is coming your way sometime this afternoon.
• Chris Paul can't breakdance. We'll prove it to you in a bit.
It's Tuesday, and it's our sixth birthday. A.J., if you're even up yet, please bring cake.
*****