According to the Massachusetts arm of Obama For America, a vote for the Pats is a vote for Obama. But if history is to be our guide, Obama should be pulling for the Giants. President Obama and a New York Giants vs. New England Patriots Super Bowl are inextricably linked. Think back to just four short years ago: The Giants won the Super Bowl in 2008 and Obama won the White House.
Evidently unaware that its historical allusions spell certain disaster for either its boss or favorite team (not to mention that the President was inaugurated in 2009), Obama For America's Massachusetts office is trying to recapture the magic of merely being in the Super Bowl by inciting a twitter war with the State of New York.
If you live in Massachusetts, you probably know about two major events that happened in 2008: President Barack Obama was inaugurated as the 44th President of the United States, and the New England Patriots faced off against the New York Giants in the Super Bowl.

In 2012, we're at it again, growing a strong grassroots organization that's working every day to reelect President Obama and cheering on the Patriots in the Super Bowl against the Giants. But this year, we're wicked excited about a Patriots win-so we're entering into a friendly competition with our friends from the OFA team in New York.

While we're allies on the organizing field, in the spirit of the Super Bowl, we're squaring off to see which state can get the most new Twitter followers by the time the game starts on Sunday. Here in New England we all know that like the President, the Patriots have the better team, more experience, and the skills to win in big game situations-and we're ready to prove it.
So if you love the New England Patriots and you want to know the latest about what's happening with the Obama campaign in Massachusetts, help us beat New York by following us on Twitter and making sure your friends and neighbors do too. Let's beat New York!
While Massachusetts may be brimming with confidence, according to President Obama's very scientific poll, the rest of the country thinks New York will win.
So go ahead and vote for your favorite team, or follow your favorite Obama For America office. Personally, I'm just waiting for all the shameless whoring for twitter followers to end. That's change I can believe in.
G/O Media may get a commission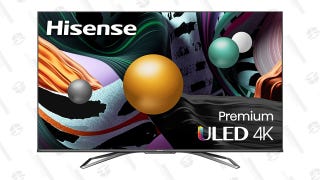 Save $350
Hisense ULED 65" Android 4K HDR Smart TV
Ready for a Super Bowl-and Twitter-Win on Sunday [BarackObama.com]