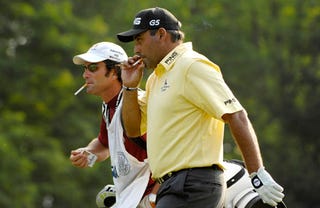 Barring a miraculous Tiger comeback or something extraordinary like Augusta being overtaken by Somali pirates, you can consider this the last post of the day on Easter Sunday. It's your Easter DUAN.
If you're stuck at work or just feel like dicking around on Easter, please use this space to air all your grievances or find a new best friend for life. Or if you're part of the Angel Cabrera fan club, you can stay here too and talk about how fat he's become since he quit smoking.
Thank you for your continued support of Deadspin. We'll be back tomorrow in full force, doing that thing we usually do with grace and aplomb, or more likely, an actual plum.
Say goodnight to the Masters, Ed: