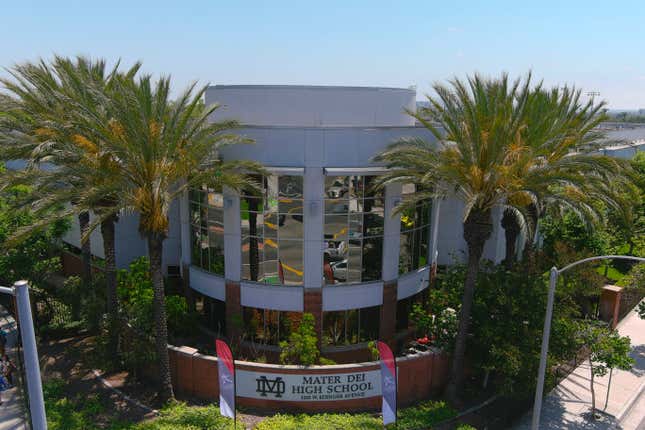 In November, Mater Dei High School in Orange County, Calif. lost its first football game since before the COVID-19 pandemic. Bryce Young's high-school program was defeated by St. John Bosco, 24-22, at the Rose Bowl in the Southern Section Division I Championship Game. There's no shame for high school kids in losing a football game to one of the best teams in America. However, plenty of shame needs to be heaped upon many adults involved with that school both past and present.
Top 5 football movies of the past 30 years
What has become all too common at this Southern California Catholic athletic powerhouse are allegations of misconduct.
On Wednesday, the Orange County Register reported that Mater Dei will be taking a page from the Boston Celtics playbook during the Ime Udoka scandal. The school's athletic culture has been under internal investigation by an outside law firm for more than a year. Findings from this investigation will not be made public, according to the school and the local diocese. This is after former school president Fr. Walter Jenkins commissioned the investigation, and told the OC Register that the findings would be made public in November 2021.
Jenkins resigned at the turn of that year, but that February new president Mike Brennan and school spokesperson Alison Bergeron reportedly told the OC Register the same thing. Here is Bergeron's statement from Wednesday: "We will use the climate assessment, along with our … Accreditation report and other schoolwide strategic plans, to strengthen the Mater Dei experience for all affiliated with the school."
Allegations of physical and sexual violence
What spurred the need for this investigation was a football player suffering head trauma, among other injuries, after a physical altercation in the locker room.
In February 2021, a football player was allegedly peer pressured into participating in what was referred to by the team as "Bodies." In individual matchups in the locker room, Mater Dei players would punch each other in the upper body until one of them would submit. Orange County District Attorney Todd Spitzer elected not to file criminal charges because what took place in the locker room did not meet the legal standard for hazing or assault.
What purportedly happened in that locker room sounds quite similar to a hazing ritual taken to the extreme. The Los Angeles Times and Southern California News Group obtained video of what happened in the locker room. According to both outlets, one player went up against a significantly larger player. The larger boy punched the smaller boy in the head three times, breaking his nose and causing a traumatic brain injury.
Allegedly, after the smaller boy was hurt the school took 90 minutes to call for medical assistance and also his parents. What is also alleged is that long-time head football coach, Bruce Rollinson, told the victim's parents and former Athletic Director Amanda Waters that if he received money every time the kids played "Bodies," he would be a millionaire. When questioned by police, Rollinson told them that had never heard of "Bodies."
Waters also said during a sworn deposition that she was castigated for questioning the former vice principal and head football coach about the incident. Rollinson coached Mater Dei for 34 years, and said in October 2022 that he was fairly sure he would be returning for the 2023 season. In November 2022 he announced his retirement.
Waters left Mater Dei a month after the alleged February 2021 incident. In an open letter, Mater Dei stated that "much of her testimony is without merit," and that her recollection of scenarios has been contradicted by "objective evidence," such as video, and cell phone records.
That beating is also not the only alleged assault that has been viewed on video by Southern California journalists. The OC Register also obtained videos of players being sexually assaulted by teammates in 2018. One titled "Miss Summer Ball," was posted on social media. In it, a player approaches a seated player, pulls down his shorts and underwear, and then simulates sexual acts in front of a large group of teammates.
The investigation was not limited to the football program. Mater Dei announced in November 2022 that boys water polo coach Brian Anderson would no longer be with the team. At the time, no reason was cited. This was following an investigation by the diocese. Per the Register, Anderson is alleged to have regularly bullied players. The bullying allegedly included players with learning disabilities and other medical conditions. Anderson's attorney has "categorically" denied all of the allegations made against the former coach.
One of the strongest high-school athletic programs in America has been accused of allowing assault, and trying to at best control how information was released. At worst, Mater Dei chose to fight for its reputation instead of the well-being of its students.
Considering the breadth of allegations made against Mater Dei, if the school or the diocese cares at all about student safety, the independent investigation needs to be made public.