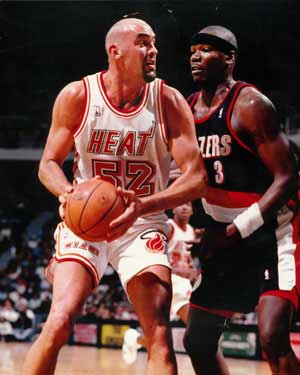 If you ever needed a reminder how the life of a professional athlete is infinitely better than yours is, we re-introduce you to Matt Geiger. The journeyman center bounced around the NBA for 10 years, fouling Shaq a lot, mostly just being bald. And how was rewarded for his tenure? Rather handsomely. Witness the house that he's selling.
The 28,000 square-foot estate, which has a $177,000 yearly property tax bill, includes "several lavish bars, a DJ station and dance floor, hot tubs, a pizza oven and even a cigar room." Not to mention "40 televisions, 18 of them wired with Xbox so that Geiger and his buddies from high school could play video games together, plus a 330,000-gallon pool and a 5,200-square-foot guest house." And a "putting green and a man-made lake stocked with 2,500 bass and a personal herd of livestock that has included 12 buffalo, 11 Watussi, two donkeys, a miniature horse and one cow on the 40-acre estate."
And this is Matt Geiger, people. Matt Geiger is living like the guy from "Entourage." There is no God.
Matt Geiger Sells 28,000 Square Foot Home [Sports By Brooks]