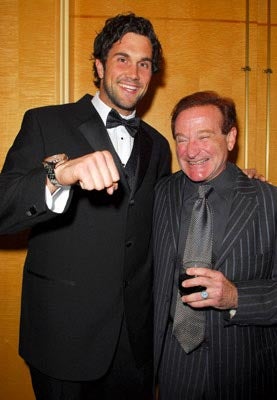 When you're a fan of an NFL team, all you can hope is that your team's leader is setting his sights on the ultimate prize: The Super Bowl. If he's not trying to win the whole thing, what's the point? A championship is all that matters. And clearly, Buzzsaw quarterback / Patch Adams buddy Matt Leinart has his eye on the prize.
How do we know? Well, he already has Super Bowl plans: He's hosting a party with John Travolta.
Vertical Sports will be staging two of the week's higher-profile fetes at Galleria Corporate Center in downtown Scottsdale. [John] Travolta and Cardinals quarterback Matt Leinart team up to host Saturday Night Spectacular, while [Carmen] Electra and other beauties will welcome guests at the fifth annual Leather & Laces party. Both are charity events.
Now, obviously, our Buzzsaw isn't going to make the Super Bowl this year. (But you never know!) But it might be nice to, you know, pretend. By the way, Robin Williams ... John Travolta ... Leinart sure is in hip with the young Hollywood elite, isn't he?
Matt Leinart's Party Buddy [Shakedown Sports]