Matt Schaub threw an unpredictable touchdown during the Texans predictable loss to the Saints. This, and so much more, to be discussed below. Come on in.
Jokic? Embiid? The NBA MVP is obvious... right? | Keep it a Buck(et)
Houston 33, New Orleans 40 - As expected, this was not a defensive affair. Matt Schaub fantasy owners got a gift TD (video above), but the Saints got the last laugh...and possession, most likely.
NY Giants 29, Philadelphia 16 - Mike Vick did not finish the game. Again. Kafka came in after Vick broke his non-throwing hand and proved to be unremarkable. Victor Cruz had a big day for the Giants, even getting in the endzone against Asomugha. Sports talk radio in both cities will be just a little bit more annoying than usual, now.
Jacksonville 10, Carolina 16 - Jacksonville gave up a safety for the second consecutive week en route to a loss to the Camolina Newtons. This game might actually have been played in a toilet bowl. Because of all the water, you see.
G/O Media may get a commission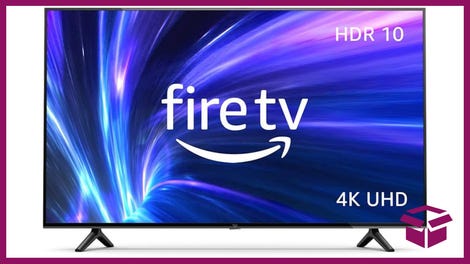 42% Off
Amazon Fire TV 50" 4K Smart TV
New England 31, Buffalo 34 - In what appeared to be the best game of the early afternoon, Buffalo won with a field goal at the end of the game...What?
Miami 16, Cleveland 17 - The Browns eked one out at home against the Dolphins. According to this article, Browns fans were left with a happy ending, despite a "freighter load" of mistakes. Huh.
San Francisco 13, Cincinnati 8 - Less than 44,000 people watched this game. Here it is in a nutshell: "Kendall Hunter ran 7 yards for the game's only touchdown with 3:59 to go Sunday..."
Denver 14 , Tennessee 17 - Chris Johnson continues not to earn his contract, Tim Tebow continues to be a great team guy and Matt Hasselbeck continues to defy Father Time and do what he needs to do to win. Next week, on Beat Writing For Dummies, defense will win championships.
Detroit 26, Minnesota 23 - The Lions came back from down 20 to win in overtime. The game winning field goal was set up by a 40 yard Stafford to Johnson hook up. It's almost like the Lions are an actual professional outfit.
Your "Holy Smokes! That's Funny Tacklin'" Interlude
Funny tacklin' got an early start today in the Giants-Eagles game. First, Kurt Coleman whiffed on Victor Cruz, then things got interesting. Nnamdi Asomugha, lowered the volume and lowered the boom to help out on the play. His form? Impeccable. Strength? incapacitating. Mission? Accomplished. What's more, Kurt Coleman got first hand experience from one of the best in the league. That's how you tackle, holmes.
Baltimore 37, St. Louis 7 - The Ravens absolutely smoked the Rams thanks to fantasy stud and real life scaredy cat, Torrey Smith.
NY Jets 24, Oakland 34 - Oakland had five first downs by penalty. The Jets also gave up over 230 rushing yards today, the most ever under Rex Ryan. It was the most predictable of games for Jets fans, yet somehow it always comes as a shock.
Kansas City 17, San Diego 20 - The San Diego running game got all the glory today. Ryan Mathews had 98 yards and two touchdowns while Philip Rivers threw two picks. The game ended on a Matt Cassel interception on a screen pass. I don't have confirmation on this, but it's probably safe to assume that Todd Haley was an aggressive douchebag immediately after.
Arizona 10, Seattle 13 - Kevin Kolb and Tarvaris Jackson combined for 423 yards, two touchdowns and three interceptions. In other words, Cam Newton.
Atlanta 13, Tampa Bay 16 - Tampa Bay got its first win against the Falcons in the Raheem Morris era. Roddy White and Julio Jones each had over 100 yards receiving. Things got interesting with the 91st touchdown in the storied career of veteran tight end, Methusel....er, Tony Gonzalez, but Tampa Bay survives.
Green Bay 27, Chicago 17 - The Bears ran the ball 11 times for four yards. When reached for comment Mike Martz said "Running is for assholes." Fox cameramen, the packers special teams unit and presumably the refs were completely faked out by Devin Hester during a Johnny Knox kickoff return for a touchdown. The score was nullified, however, by a phantom holding call on a player, according to the Fox spotter, that was not on the field.
Fictional Character Associated With the Region Game Simulator Results Show FCAWRGS continues its streak of mediocrity with another 1-1 day. While it correctly knew teen angst is always FTW, it failed to account for the sheer catchiness of Mr. Wendal.
Philadelphia Eagles Exciting Play Of The Day