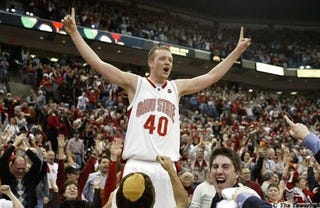 Ohio State fans know Matt Sylvester as the feisty forward who hit the game-winning 3 that beat Illinois in 2005. Well, his likeness is now available to worship in mugshot form.
Matt Sylvester was arrested Friday night after leaving a basketball game at the Schottenstein Center. According to police, Sylvester, 26, made an illegal u-turn on Woody Hayes Drive and ignored an officer's order to stop, 10TV News reported. Police said Sylvester also ran a red light and drove recklessly on a sidewalk before stopping.
Sidewalk driving? Isn't that only for stroke victims and people over 80? Well, for all of you gloating Illini fans out there, temper your enthusiasm here.
Of course if you don't follow the Big Ten, you probably know Sylvester from such hits as Semi Pro, the Will Ferrell movie in which he was an extra. Which means that he had fewer lines than the bear. But it's a start.
Also from the Sylvester file: Was suspended from the team in 2005 for spitting on a Michigan State fan who had been heckling him; and was shot in the butt with a .22 rifle during a Labor Day party in 2002.
Ex-OSU Player Arrested Outside Of Arena [10TV.com]