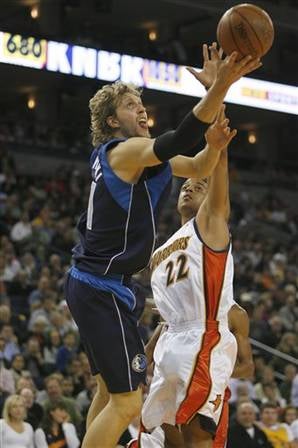 It's big news whenever the Mavericks beat the Warriors; even if Golden State only has 10 players suited up, and the guy responsible for guarding Dirk Nowitzki is still serving a suspension. Dallas took a 120-115 win over the Warriors on Thursday night, Golden State falling to 0-5 despite 37 points from Baron Davis (15 in the fourth quarter). Nowitzki scored 22 points and Jason Terry and Josh Howard both had 24 points as the Mavericks broke a five-game regular season losing streak against Golden State. And that doesn't count last season's playoff debacle, which has forced Mark Cuban to blog about nothing but Google ever since.
• Tyrus Leads The Taurus. Meanwhile, the Bulls got their first win, surprisingly over the Pistons, 87-93 as Tyrus Thomas had 19 points and 14 rebounds. "It just feels a lot better. We got a quality win over one of the best teams in the league'' said Chicago's Kirk Hinrich, who had 14 assists. "Now we've got to play better basketball and be more consistent.''
• Nets 87, Wizards 85. Richard Jefferson's offensive rebound and two free throws with 24 seconds left won it for New Jersey and kept the Wizards winless. He finished with 25 points. The Nets were down 20 in the first half.
• An Ultimatum? Are You Crazy? David Stern warns that if you let the Sonics walk out that door, Seattle, don't bother begging him for another team. And we're not getting a dog either.