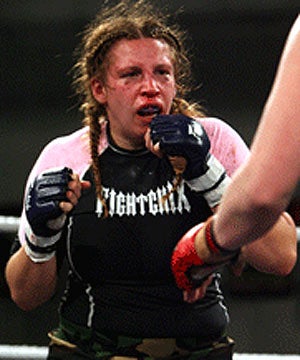 This rugged-looking woman is not your ordinary female MMA warrior fighting at Saturday's "Princesses of Pain" event in New Zealand. No, this woman is Amanda Lucas, daughter of George Lucas, of Star Wars infamy.
Thanks to 100% Injury Rate at Fan IQ, we find out Amanda took a walloping in her first professional MMA battle at the hands of a Kiwi kickboxer, Nicki Kavanaugh. (It appears Kavanaugh may have cement blocks for feet based on the condition of poor Amanda's face.) Lucas has had some formal training in Brazilian jiu-jitsu and Muay Thai, so she's not completely green. In case you were wondering what she was up to before entering the "Princess of Pain" competition, she wasa "hip-hop teacher" in San Francisco and Star Wars fanboys may also recognize her from some of the recent films:
She was dancer Diva Funquita and the voice of Trade Federation battleship communications officer Tey How in Episode I The Phantom Menace, Outlander Club patron Adnama (Amanda spelled backwards) in Episode II Attack of the Clones, and Senator Terr Taneel in Episode III Revenge of the Sith.
So, yeah, she's talented.