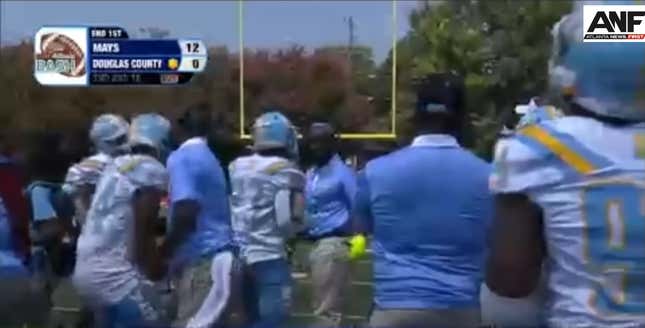 "Thou shalt not assault players" is one of the most stringently enforced coaching commandments there is. You'd think that legendary Buckeyes coach Woody Hayes getting yeeted up out of Columbus would serve as a warning for all future generations to abide by. And yet, on Sunday, this video of a Benjamin E. Mays High School football coach striking a player on the sidelines went viral.
During the first quarter of a contest between Mays and Douglas County, the unidentified coach was seen berating a Mays player, then inexplicably struck his own player in the stomach. After receiving a body blow, the Mays player doubled over and brushed it off. However, the coach was immediately removed from the sidelines and placed in custody by an Atlanta Public Schools police officer.
Top 5 football movies of the past 30 years
On a personal note, the second I saw the video, I uttered an expletive for two reasons. Number one, the stupidity was astounding. That's just career Darwinism. Good luck, coaching pee wee football after that. I can't imagine what would compel a coach to even try that. Incredibly, this outburst occurred while Mays was leading 12-0 in the first quarter.
Secondly, it was a personal punch in the gut because I know my alma mater's colors when I see them. Yeesh. According to Atlanta News First, a Mays spokesman says the coach was a lay coach who does not teach at the school or hold a teaching certificate.
"A lay coach for Mays High School, who is not a classroom instructor, is in police custody after an incident that occurred on the sideline during the school's game this afternoon against Douglas County High School," spokesman Seth Coleman explained in a statement to ANF. "The lay coach will be charged with simple battery and face administrative charges from the district."
It's been a while since a coach was dumb enough to punch a player that blatantly. The lack of impulse control from coaches who stress the importance of discipline is mind-boggling. Some people get a little authority and they can't help but abuse it. Usually, they're manipulative enough to exert that power behind the scenes, but in this case, it was a perfect storm of idiocy meeting Peachtree TV cameras catching the interaction and law enforcement on the scene.
If Woody Hayes couldn't get away with punching Clemson's Charlie Bauman in the late 70s when coaches used to withhold water and got away with all sorts of psychological abuse, what made this dolt think he could get away with it?
Back when he was head coach at South Florida, Jim Leavitt was heaved further than Uncle Phil used to toss Jazzy Jeff out the back door after allegedly grabbing a player by the throat and slapping him at halftime, and he was the only coach that upstart program had ever known.
In 2021, Washington coach Jimmy Lake was fired after video emerged of him slapping a player in the helmet and pushing him in the back. Even after getting slapped upside the head, linebacker Ruperake Fuavai's reaction was to walk away.
I'm always amazed how in the face of erratic adults, these student-athletes stay composed. It's a miracle none of these players have ever swung back. The thing about trying that on high schoolers is that there's usually a parent nearby to handle that retribution on the scene. One thing is for certain. You'd never seen that at the pro level.
Follow DJ Dunson on X: @cerebralsportex