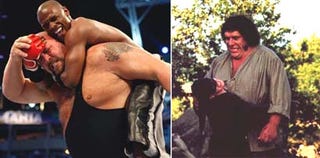 Remember the good old days, when boxers waited until they were old and washed up before turning up on the professional wrestling circuit? Of course then you don't make $20 million just for showing up, as Floyd Mayweather did on Sunday at WrestleMania XXIV in a completely legitimate not-at-all scripted battle with The Big Show. Judging by the following paragraph, a fun time was had by all:
Mayweather came back to the ring — with Wight's assistance — after an early onslaught, then used some help from his cornermen to get a metal folding chair (with which he landed a series of shots) and a pair of brass knuckles (which he snatched off a fallen cornerman's necklace).
Still less cheating than a typical Tyson fight.
Mayweather "won" the match, but here are the statistics that interested me: Attendance 74,635, WWE-record live gate at Orlando's Citrus Bowl of $5.85 million. And no telling how much pay-per-view revenue. Jesus, WWE; don't give Selig any ideas.
Mayweather Gets Pretty Payday In Another Ring [Los Angeles Times]
So 'Money' [SI.com]
Mayweather Knocks Out Big Show At WrestleMania {Muskegon Chronicle]