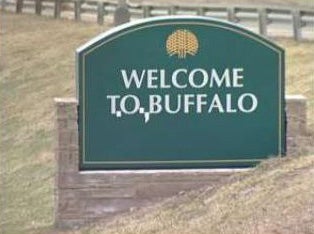 Bills vandals fans welcome Terrell Owens in their unique way. He should be in town eight times this season, so hopefully he'll see this.
T.O. returned the sentiment by announcing today that if Bills' workouts are not mandatory, he won't show up. That's not as bad as it sounds, actually. The Buffalo News:
"I talked to coach [Dick] Jauron prior to the start of the workouts about that," Owens told USA Today about voluntary workouts. "Right now if there's nothing mandatory that I have to be a part of, then I won't intend to be there."

"I've never gone to a voluntary workout," Owens said. "I have a personal trainer. I take very good care of myself. I take pride in coming into camp in shape. If I'm in the area, I tend to stop by the facilities and work out with the guys. You know, I'm looking forward to that type of stuff."
No, T.O.'s problems have never been with lack of training. They've been from the neck up. So maybe, this time, a little extended bonding with his teammates is more important than lifting weights in his driveway? Ah, what do I know?
T.O.: 'If It's Not Mandatory, I Won't Be There' [Buffalo News]
Welcome T.O., Buffalo [WGRZ]