My girlfriend is passionate about keeping a scorecard at the ballpark, but she doesn't bother with it when we go to Grapefruit League spring training games. There's so many roster changes and substitutions in the late innings, she says, and keeping up takes the fun out of enjoying beer & sunshine.
Fans more dedicated to transcribing each play were thrown for a loop yesterday afternoon at the Cardinals-Mets game in Port St. Lucie when little-known St. Louis prospect Minor League Guy On Third entered the game as a pinch-runner. That's to assume there was anyone left in the stadium at all who hadn't abandoned it for the nearest bar showing NCAA tournament games. But for those who did stay, they observed a rare appearance by one of baseball's most fascinating players. This is his story.
Of course, Minor League Guy On Third (we'll simply call him Minor League Guy from here on out) isn't his real name. It's a code name, one used to protect his true identity for the sake of national security. Minor League Guy was born in the hills outside of Medellín, Colombia, where his father operated a small coffee plantation. Like most Colombian children, he regarded baseball as a curiosity, dedicating his athletic pursuits to soccer.
That all changed in 1999, when at the age of eight he and his family were summoned to the palace of newly-inaugurated Venezuelan president Hugo Chávez. Chávez had found the coffee produced by Minor League Guy's father to be especially pleasing, and offered the family a home in Caracas in exchange for his father's serving as the presidential capitan de la bebida. It brought the On Third family wealth beyond their wildest dreams, and introduced Minor League Guy to béisbol for the first time. He proved a natural at the middle infield positions for which Venezuela is renowned in producing major league talent, and the national sports organization dispatched him to their top academy.
Chávez, meanwhile, had other plans. As tension between himself and the Bush administration grew, he plotted an infiltration of spies posing as professional baseballers. The grooming of Minor League Guy began early, with the academy teaching him how to hit-and-run during the day and Chávez's operatives teaching him surveillance and hand-to-hand combat at night. By now, Minor League Guy's family had been made full Venezuelan citizens, and he was dedicated to his new country and the egalitarian ideals he believed it espoused.
G/O Media may get a commission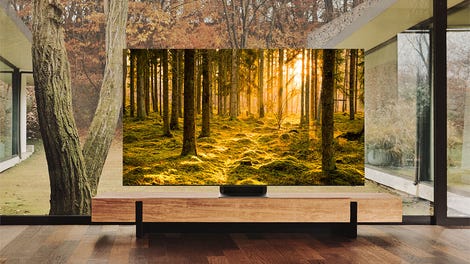 Up to 40% off
Samsung Smart TVs
At 17, Minor League Guy earned his first professional contract, and Venezuelan authorities rushed his training to prepare him for entry to the U.S. What they didn't count on was the CIA's having full knowledge of the operation; within weeks of his arrival in Jupiter, Florida, U.S. intelligence flipped Minor League Guy, brainwashing him of his allegiance to socialist ideals and turning him into an informer for other Venezuelan players whose aim was to bring down the American government through the practice of baseball fundamentals and spray hitting.
It was at this point Minor League Guy On Third earned his nom de guerre. It's an unfortunate one, as it leads to considerable confusion when he reaches first or second base. He's tailored his game to target the corners and use his speed to leg out triples whenever possible, but it still gives announcers and scorecard-keepers fits on occasion. But the biggest fear for U.S. intelligence is that Minor League Guy will someday prove his worthiness to the big club and get called up. Will they change his codename? Would it compromise his mission? This all remains to be seen. For now, Minor League Guy On Third, we appreciate your dedication to the United States of America.