Few people have perfected the art of professional escape like Steve Alford, the newly former New Mexico coach who is now the future former coach of UCLA. Nine days after getting drummed out of the NCAA tournament by Haaarvaaard and two days before his 10-year, $20 million contract with the Lobos was to kick in—along with a $1 million buyout—Alford on Saturday was named the 13th head coach in Bruins history. What was true about Alford the player is true about Alford the coach: He is very good at getting open.
Alford's climbing up the coaching ladder is nothing remarkable, except maybe to certain climbers in the media. What is remarkable is that his careerism is totally at odds with the central lesson of his career so far. He could've been something like the Brad Stevens of the high desert if he didn't also think like his generation's answer to Larry Brown.
In what turned out to be the penultimate press conference of his six-year tenure at New Mexico, Alford was at his surliest. Questions about the team's disappointing NCAA tourney exit had put him, as the coaches like to say, in a tough defensive mindset. He furrowed his brow and pretended to not know that this egg-laying had attracted some bad press.
"Jim Rome?" he wailed, when a reporter provided some examples of national figures speaking ill of the Lobos. "We're going to go to Jim Rome? Wall Street Journal? Wall Street Journal is heavy into sports?"
He decided to congratulate himself on his moral fiber. too.
"It was a pretty big commitment on my part especially what's out there and the opportunities that are out there to show my loyalty to UNM," he said.
G/O Media may get a commission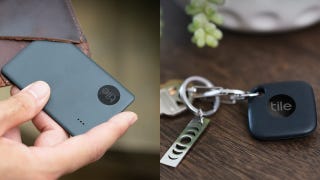 Up to 35% off
Tile Item Trackers
This was Stevie Boy talking again—Iowa Hawkeyes fans will immediately recognize the sneering air of grievance in his comments, the intense self-love.
"There's no way, if you've got any kind of basketball intellect at all, where you would say we had a bad season."
And that's true, in part. Alford had a very solid season in New Mexico, maybe not the Sweet 16 season that Lobo fans had been craving or that Alford himself had intimated, but a very good one. And he had many good ones ahead of him in Albuquerque. He'd fled there after a 17-14 season at Iowa, his escape facilitated in large part by his former coach, Bobby Knight. (Knight had been hired at Texas Tech by the university's then-president David Schmidly, who was president at New Mexico when Alford was hired.) It was a brilliant move for Alford: New Mexico had just committed to a $60 million upgrade of The Pit, and the fan base's expectations had been softened after a decade of mostly indifferent basketball.
Alford said routinely that he appreciated being in a place, in Albuquerque, where basketball was a priority. Hawkeyes fans warned Lobo fans about the letdown that awaited them, but Alford's quick success hit the mute button. (And Todd Lickliter's three win-starved seasons in Iowa added credence to Alford's contention that the basketball problem was endemic.)
Alford had discovered what Butler's Stevens and VCU's Shaka Smart have discovered, too: that rewarding careers can be had in the mid-majors, even for a mediocrity like Alford. There, you are the darling of the school's athletic program, and you can win 25 games a year and gain national acclaim and still exist in a permanent state of Mark Few-ish self-martyrdom, which comes natural to Alford. At New Mexico, Alford had The Pit, which, unlike Pauley Pavilion, sells out. He had relatively weak competition in the Mountain West, despite what the RPI says (and nobody trumpeted the RPI more ostentatiously this past season than Alford). In Albuquerque, everything was in place for Alford to build another tinker-toy powerhouse. He knew it, too.
"One of the things you don't usually mess with," Alford mused barely a month ago, "is happy."
But now he's absconded for Westwood, the tertiary choice (at best) of a program that couldn't persuade Stevens and Smart to make a similar leap from the B-list. Alford called UCLA "the pinnacle," a revealing choice of phrase that suggests he sees college basketball as a hierarchy to scale rather than a collection of different-sized redoubts from which to attack the basic problem of winning six games in a row come March.
So what did the Bruins get? They got a well-known name to replace Ben Howland—who, for all his success there had gone sour on the shelf—and they got him on the cheap: a seven-year deal worth $2.6 million per. They got, in the words of one Chicago radio host, a "scumbag" who went to bat for Pierre Pierce. (In 2005, Pierce pleaded down a sexual-assault charge, copping to an assault causing injury. He later apologized for having "inappropriate sexual contact with a fellow student.") They got a recruiter who routinely missed out on his top targets while at New Mexico and who failed to convert on what was ostensibly his best recruiting pipeline—the Indiana Elite AAU team—despite hiring the coach's son onto his New Mexico staff. They got a coach who can get to the NCAA tournament but who's been to the Sweet 16 only once, at Missouri State, in 1999, and who's lost to 14 seeds three times.
In all, they got a thin-skinned, 48-year-old whose blessing and curse is that he still comes off callow, even if he's just two years younger than, say, Bill Self, and who for the first time will have to confront a major market with real expectations.
In an hour, Alford will introduce himself to UCLA in a press conference. He'll say all the right things. He'll talk about Indiana and John Wooden and Bob Knight and tradition, thrusting himself into the reflected light of other people's haloes. Maybe he'll have a kind word for Ben Howland, who lasted 10 seasons at UCLA, the last five of which were spent in grumpy decline. One way or the other, don't expect Alford to stick around for nearly that long. He'll be gone soon enough, forever a step ahead of the pitchforks and torches.
Daniel Libit is an editor-at-large at ChicagoSide and an Albuquerque native.