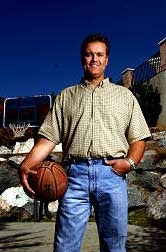 Awful Announcing has helpfully listed the announcing teams for each NCAA tournament venue, and we were gonna say you gotta feel bad when your game is being broadcast by Craig Bolerjack, but then we see he's doing the Duke game and therefore pass the last-announcing-team award to Ian Eagle and Jim Spanarkel. They probably should have had it in the first place.
To get you even more into the spirit of matters, The Love Of Sports tracks down the closests 1-16 games in tournament history. Everyone remembers the Georgetown-Princeton game, but people forget that a year later, Murray State actually took Michigan State to overtime. During the Illini's Final Four season three years ago, they only led Fairleigh Dickinson by one at halftime, and we were officially terrified.
Will anyone ever pull off the 1-16 upset? We're looking at you, Portland State.
Your NCAA Announcing Schedule [Awful Announcing]
Closest Calls In Tournament History [The Love Of Sports]