Melvin Gordon's record-breaking shitstomping of Nebraska made it clear this season is the best chance a running back has had at the Heisman in years. Gordon's only the second player to reach 1,900 yards through 10 games since 2000. And his yards per attempt are 2.8 yards better than the other back to reach 1,900 this quickly—LaDainian Tomlinson.
While Gordon represents the best chance any non-quarterback has at the Heisman this season, he's not the only back putting up crazy stats. Last week Gordon was one of three backs to go over 300 yards rushing. And throughout this season, the most productive running backs in college football are putting up better numbers than any class has since 2009, when Mark Ingram was the last running back to win the Heisman. Numbers in the table—from Sports Reference—are averages of the nation's top five leading rushers through the first 10 games of each season.
| | | | | |
| --- | --- | --- | --- | --- |
| Year | Rush Yds | Rush Avg | Yds/Play | TD |
| 2009 | 1382.6 | 6.6 | 7.3 | 15.6 |
| 2010 | 1307.0 | 6.0 | 6.0 | 13.2 |
| 2011 | 1279.8 | 5.7 | 6.1 | 16.4 |
| 2012 | 1365.6 | 6.2 | 6.5 | 16.2 |
| 2013 | 1258.8 | 5.4 | 5.9 | 12.6 |
| 2014 | 1582.6 | 7.8 | 7.7 | 18.2 |
| 2014 NG | 1501.0 | 6.3 | 6.3 | 16.5 |
While Gordon definitely inflates this year's numbers, the final row (NG standing for "no Gordon") shows that even without him, this year's top backs are still rushing for more yards and producing more touchdowns than they have in a while. Since these are small sample sizes, it's tough to sort out what exactly is driving this effect, especially since before this season running back production at the top appeared pretty stable and there was no leading upward trend prior to this season.
What we do know is that the nation's top two rushers (Indiana's Tevin Coleman is second with 1,678 yards) play in the Big Ten, and if Ameer Abdullah wasn't hampered by a knee injury it's likely the top three would all come from the conference. The top five leading rushers who aren't from the Big Ten are averaging 1,423.4 yards this season. That's still exceptional, but more in line with what we've seen in recent years. The Big Ten does have some outstanding backs, but with five already over 1,000 yards rushing, there may be something lacking in the conference's run defenses that's inflating these numbers. Illinois ranking dead last in the nation in rush defense (they're giving up 266.9 yards per game) is the sort of thing that's certainly helping Big Ten backs post gaudy numbers.
G/O Media may get a commission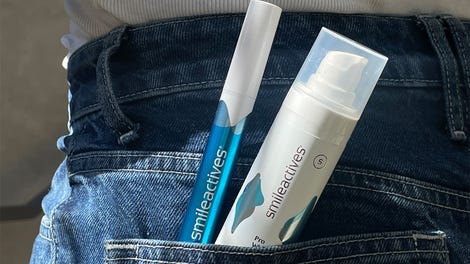 58% off
Whitening Powerhouse Pen & Gel Duo
Still, it's hard to ignore what Gordon is doing. Through 10 games, he already has more touchdowns (25) than the last three Heisman running backs. (Ingram, Reggie Bush, and Ron Dayne all had either 19 or 20.) Meanwhile, his 8.5 yards per play trails only, Bush who had an incredible 9.4 yards per—though Bush's gaudy yards per play numbers and lowish touchdown totals were a function of sharing a backfield with LenDale White. And Gordon's greatness isn't limited to stomping Big Ten defenses. He posted 7.7 yards per play in non-conference games.
Since 2009, when Ingram finished first and Toby Gerhart second, the highest a running back has finished in Heisman voting is third. Right now, Gordon is generally projected second. If he keeps blowing by defenders, though, voters will have a damn hard time denying a running back this year.
To put what Gordon is doing in perspective, below is a table that lists the top five rushing producers through 10 games for each of the last five years.
| | | | | | | | | |
| --- | --- | --- | --- | --- | --- | --- | --- | --- |
| Player | Year | School | Rush Yds | Rush Avg | Rec Yds | Tot. Yards | Yds/Play | TDs |
| Gordon | 2014 | Wisc | 1909 | 8.6 | 83 | 1992 | 8.5 | 25 |
| Coleman | 2014 | Ind | 1678 | 7.8 | 132 | 1810 | 7.7 | 12 |
| Conner | 2014 | Pitt | 1561 | 6.3 | 30 | 1591 | 6.3 | 21 |
| Johnson | 2014 | Marsh | 1402 | 8.5 | 98 | 1500 | 8.9 | 18 |
| Pumphrey | 2014 | SD | 1363 | 6.6 | 97 | 1460 | 6.5 | 15 |
| Carey | 2013 | Ariz | 1353 | 5.6 | 178 | 1531 | 5.7 | 13 |
| Sankey | 2013 | Wash | 1318 | 5.4 | 258 | 1576 | 5.9 | 14 |
| Oliver | 2013 | Buff | 1225 | 5.1 | 111 | 1336 | 5.3 | 12 |
| Gaffney | 2013 | Stan | 1201 | 5.1 | 84 | 1285 | 5.2 | 16 |
| Abdullah | 2013 | Neb | 1197 | 6.3 | 145 | 1342 | 6.4 | 8 |
| Jefferson | 2012 | Nev | 1436 | 5 | 179 | 1615 | 5.2 | 20 |
| Carey | 2012 | Ariz | 1381 | 6.2 | 281 | 1662 | 6.5 | 19 |
| Fluellen | 2012 | Tol | 1381 | 6 | 191 | 1572 | 6.1 | 12 |
| Barner | 2012 | Ore | 1360 | 6.8 | 219 | 1579 | 7.3 | 20 |
| Franklin | 2012 | UCLA | 1270 | 6.4 | 276 | 1546 | 6.9 | 10 |
| Wilson | 2011 | Va Tech | 1360 | 6.5 | 99 | 1459 | 6.5 | 8 |
| Hillman | 2011 | SDSU | 1286 | 5.7 | 209 | 1495 | 6.1 | 14 |
| Turbin | 2011 | Ut St | 1257 | 6.8 | 107 | 1364 | 6.9 | 21 |
| Rainey | 2011 | West Kent | 1254 | 4.3 | 313 | 1567 | 4.9 | 12 |
| Ball | 2011 | Wisc | 1242 | 6.7 | 234 | 1476 | 7.4 | 27 |
| James | 2010 | Ore | 1422 | 6.3 | 149 | 1571 | 6.7 | 18 |
| Hunter | 2010 | Ok St | 1356 | 6 | 90 | 1446 | 6.0 | 16 |
| Todman | 2010 | Uconn | 1306 | 5.5 | 97 | 1403 | 5.5 | 11 |
| Rainey | 2010 | West Kent | 1244 | 4.6 | 197 | 1441 | 4.9 | 11 |
| Powell | 2010 | Louis | 1207 | 6.6 | 120 | 1327 | 6.7 | 10 |
| Mathews | 2009 | Fresno | 1491 | 7 | 122 | 1613 | 7.2 | 14 |
| Buckram | 2009 | UTEP | 1422 | 6.6 | 344 | 1766 | 7.3 | 17 |
| Gerhart | 2009 | Stan | 1395 | 5.3 | 87 | 1482 | 5.5 | 19 |
| Pierce | 2009 | Temple | 1308 | 5.9 | 6 | 1314 | 5.8 | 15 |
| Ingram | 2009 | Bama | 1297 | 6.7 | 225 | 1522 | 6.9 | 13 |