Ricki and the Flash could've easily been yet another broad, obvious dysfunctional-family comedy. It's right there in the setup: A middle-aged woman who years ago abandoned her buttoned-down Midwestern husband and kids to be a rock 'n' roll star must now make amends, setting up a feel-good redemption (with a side order of culture-clash laughs) perfect for the Last Vegas/Bucket List crowd. Instead, director Jonathan Demme, writer Diablo Cody, and star Meryl Streep have made something quirkier and more unpredictable: The result isn't great, but it's intriguingly idiosyncratic, suggesting why talented people would bother with such potentially pedestrian material at all.
Streep plays Ricki, who hasn't seen much of her Indiana family since she moved to Los Angeles about 25 years ago. Now relegated to playing classic-rock covers in a Tarzana bar, she never quite tasted stardom, recording only one album and now stuck working at a Whole Foods-like grocery with bankruptcy looming. Still, she seems mostly content when she gets a call out of the blue from her ex-husband Pete (Kevin Kline), who tells her that their daughter, Julie (Streep's daughter Mamie Gummer), has just been dumped by her husband for a younger woman. Even though Ricki—who used to go by Linda before she fled to L.A.—hasn't seen Pete and their three kids in years, he thinks it would do Julie good for Ricki to be there.
The lame version of Ricki and the Flash would then proceed to mine laughs from how an unapologetic rocker chick can't cope with these boring Midwestern straights who just don't get her—that is, until everybody learns valuable lessons about family and forgiveness during a sappy third-act finale. Some of that happens here (sort of), but Demme (making his first major studio feature since 2004's Manchurian Candidate remake) keeps the proceedings offbeat enough that even though the outline looks familiar, the particulars are always a little surprising.
Part of the credit goes to Cody, whose script views Ricki as a spiritual cousin to Mavis, the mentally disintegrating author of 2011's Young Adult (played by Charlize Theron) whose commitment to rebuilding her life conveniently keeps her from realizing that deep down, she's a terrible person. Ricki isn't quite as deluded and vindictive, but Streep doesn't ask us to sympathize with her, either: When we meet Pete, her justifiably distant adult children, and his new wife Maureen (Audra McDonald), it's clear that they're all happier without her around. Wealthy and relatively serene—with the notable exception of daughter Julie's recent suicide attempt—Pete's family is a far better bet than Ricki's fading music career. (Her sweet, patient guitarist, played wonderfully by Rick Springfield, clearly loves her, but she can't even bring herself to call him her boyfriend.)

Back in Indiana, Ricki expects to be embraced as the returning matriarch, but to her shock, everyone has moved on, the selfishness of her past actions never quite sinking in for her. But nothing here is so simple: There aren't "better" or "worse" people in this film. Even Ricki herself is an interesting contradiction: She's the one out living in L.A., but she's incredibly conservative, proudly brandishing a large American flag tattoo across her back and loudly announcing that she voted for Dubya twice and doesn't much care for this Obama guy. (In a movie filled with fine small details, we learn that these political leanings may be the product of a traumatic event from her childhood.) When she discovers that one of her two sons is gay, she dismisses it as a phase; almost as awful, she volunteers at one point that she thinks Journey is a great band.
G/O Media may get a commission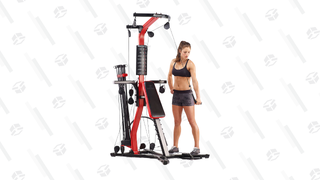 31% Off
Bowflex PR3000 Home Gym
But the filmmakers don't set her up to be the monster. Even if everyone from her old life is better off without her, her arrival stirs up unexpectedly affectionate reactions in some—and especially Pete, Kline walking a tightrope as the character struggles with his long-conflicted feelings about his ex-wife's departure. And Streep is nicely nonjudgmental in her performance: Ricki's career may not have worked out, but she's not played as a fool, and in a particularly deft scene, she skewers the sexist double-standard that kicks in when a mother (as opposed to a father) walks out on her family. Streep buries herself in the wild hair, dark mascara, and rumpled rock-star presence, but she never forgets the insecurities and wandering spirit that've been there from the start.

That said, there's a lot that's awfully pat about this film, even down to the fact that Demme's 2008 indie drama Rachel Getting Married covered much of the same family-is-hell material by also focusing on the black sheep. (Additionally, both films build to a wedding.) He doesn't always do a great job with the broader comedic moments either, like when the whole family has a would-be hilarious fight at a posh restaurant. Ricki and the Flash is agreeably loose and casual, but it can also feel unfocused and in danger of fizzling out at any moment, even if it never quite does. This isn't a very memorable film, but it is a warm one, compassionate about the different choices people make and understanding about why; yes, it all builds up to a big feel-good ending, but when it's earned, why complain?
Grade: B-

---
Grierson & Leitch is a regular column about the movies. Follow us on Twitter, @griersonleitch.