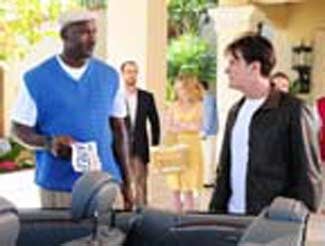 It is perhaps fitting that the greatest athlete of our generation — sorry, the generation before ours — has spent the last three years pretending to scout for the Bobcats and making underwear ads. Sure, hey, who doesn't hang out with Kevin Bacon, playing pool and tossing packaged briefs back and forth?
Now that Bacon and Cuba Gooding Jr. have had enough, it looks like Jordan has a new underwear pal.
Actor Charlie Sheen, known for his antics in and out of clothes, will appear in a TV ad campaign with Michael Jordan for Hanes Underwear starting next month.



"I had a great time working on the campaign," Sheen said in a statement. "It's nice to poke fun at yourself, sell great products and work with a legend—not much to complain about in a day's work."
This is not the Jordan and Sheen have crossed paths. And, uh, we suspect there was probably a lady or two who they might have shared over the years. Just a guess.
Hanes Commercials: Michael Jordan's True Legacy [The Howeva Files]