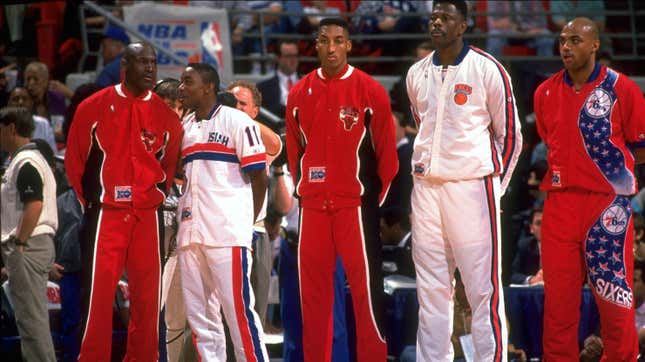 I guess if Michael Jordan gets to remain bitter about events from 40 years ago then everyone else from that time should be granted the same courtesy. In 2021 it was Scottie Pippen — promoting his bourbon and book — who was publicly critical of Jordan. Since the NBA 75 Greatest Team gathered at the 2022 NBA All-Star Game, it has been Isiah Thomas. I guess there was too much going on during the pandemic for those two to properly process how they felt about their portrayals in The Last Dance when it aired.
Since last year, Thomas has expressed several times that he is not happy with Jordan's language choice in the film. When the topic came up of the Detroit Pistons leaving the floor without shaking hands Jordan said of Thomas, "There's no way you can convince me he wasn't an asshole." Jordan also said in the film that he believes Thomas was the second-best point guard he went up against, "no matter how much I hated him."

Thomas responds on 35th anniversary of Jordan's big game against the Pistons
Thomas spoke most recently about how it upset him on the All The Smoke Podcast. He must have still been smoking with anger on Tuesday, because he felt the need to respond to a clip that celebrated the 35 years anniversary of Jordan having a game for the ages against the Pistons.
"...[I]t all depends on what type of story you want to tell," the Hall of Famer wrote.

On June 19, many tweets will go viral about the 35 anniversary of Thomas spraining his ankle in Game 6 of the NBA Finals and still setting a league record for most points in a quarter — 25. That's the story from that day.

The story from Apr. 3, 1988, is that Jordan put on a legendary performance. He missed three shots in each half, shot nearly 80 percent from the field in one of the most efficient scoring performances in NBA history, and only committed one turnover — an offensive foul. It's possibly the most overlooked great game of Jordan's career because it didn't happen during the postseason, and 59 points don't sound as good as 60.

Thomas still bitter
All the smoke must not have cleared for Thomas because he was being petty a few days after the entire episode was posted on YouTube. Thomas' beef is that he helped Jordan early in his career. When Jordan first got to Chicago their families socialized and Thomas said that one of his young nephews once stayed with Jordan for a while.
As human beings, we shouldn't call people names. We should criticize people's actions — and leave it at that. However, if they had a bond like Thomas said, how is Jordan supposed to feel in the biggest moment of his career when a person who he has a relationship with walks past him like he isn't even there?

Going back to the Bad Boys 30 for 30 film, Thomas mentions that the walk-off happened because of comments that Phil Jackson and Jordan made about the Pistons being bad champions and bad for the sport because of their physical play the day before Game 4 of the 1991 Eastern Conference Finals.

At that time, much of the league had those sentiments toward the Pistons. Patrick Ewing, Charles Barkley, and even Larry Bird felt that the team — particularly Bill Laimbeer — played dirty. Also, the Pistons embraced the league's distaste for them. They wore Raiders gear and loved when their home crowd would chant "Bad Boys!"

The Pistons are not as revered as their contemporaries from that time — the Boston Celtics, Los Angeles Lakers, and Chicago Bulls. The reason for that is unfair, especially to Thomas. When Dennis Rodman said that Bird would be considered just another player if he was Black, Thomas co-signed him. Thomas had to answer questions at a press conference with Bird during an NBA Finals that his team wasn't participating in. He never made another All-NBA team even though the Pistons would play in the next three NBA Finals.

His playing career will forever be unjustly tarnished by that remark, but in the eyes of a jury, he has been found guilty of being worse than an asshole. In 2006 while head coach and President of the New York Knicks, he was accused of sexually harassing then-team employee Anucha Browne-Sanders. She was fired after she complained. In 2007, a jury ruled that Thomas had sexually harassed Sanders-Browne and she was wrongfully terminated. She was awarded more than $11 million to be paid by Madison Square Garden and James Dolan. The jurors were not able come to a conclusion on if Thomas should have to pay damages, so a mistrial was ruled on that matter. Thomas denies any wrongdoing towards Browne-Sanders.

Playing the heel
The Pistons were the top heel team of the 1980s, but there is no kayfabe in the NBA. What happens on the court is real from the contact to the championships. Thomas played alongside one of the most hated players in NBA history, and being the leader of that team he is going to catch some shrapnel. To go along with that, his Knicks years left a bad taste in a lot of mouths in America's biggest media market.

Thomas, Pippen, and anyone who didn't like how they came off in The Last Dance has a right to feel that way. Good for them if they feel relief by getting their thoughts off of their chest, because they are not going to win any public battle against Jordan. All three came off as unlikeable at times in the documentary, but neither Thomas nor Pippen has the shoe sales to offset exhibiting the behavior of an asshole.