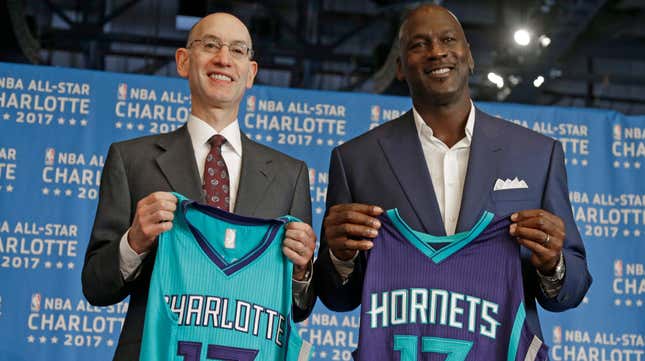 Michael Jordan is making a good business decision by selling his majority stake in the Charlotte Hornets for approximately $3 billion — especially since he bought the team for $275 million in 2010. But, despite how bad the franchise has been during his tenure, it's a melancholy moment given that the most popular and lucrative professional sports leagues in America are now without a single majority owner who's Black.
Don't say things have changed if things haven't changed.

According to ESPN, once the sale of the Hornets to a group led by Gabe Plotkin and Rick Schnall is complete, Jordan will keep a minority stake and maintain a presence with the franchise. Arguably the greatest basketball player of all time will transition from the face of the Hornets to the background — like every other Black celebrity that has a minority ownership stake in a team. 

Over the last few years, we've seen the Denver Broncos, Carolina Panthers, and Washington Commanders get sold — to white people — in the NFL. In the NBA, the Houston Rockets, Brooklyn Nets, and Phoenix Suns have all been purchased — by non-Black people. And in Major League Baseball, the New York Mets were bought by Steve Cohen in 2020 — another wealthy white guy.

Black athletes dominate the NBA, NFL but team owners are always white
White people buying teams isn't the issue. Black people en masse not having the capital due to socioeconomic reasons is. There's also racism, which is why NFL owners never let wealthy Black people into their club when a team is up for sale. That reason becomes even more frustrating when you realize that Black people dominate the NBA and NFL, but never run the teams that play in those leagues.

"It's the best fanbase in the world, and I would love to bring a team here at some point," LeBron James said during the preseason about owning a team in Las Vegas. "He (NBA Commissioner Adam Silver) probably sees every single interview and transcript that comes through from NBA players, so I want the team here, Adam. Thank you."
James didn't just make that statement because team ownership has been a part of his financial portfolio, it's because he understands that Black ownership in sports is a void that needs filling.

"We play on the field, we play in the arenas, but we haven't been able to go up to the ownership box," Magic Johnson — a minority owner of the Los Angeles Dodgers and Commanders — told Yahoo Finance in 2020. "So I'm hoping that that changes."

"It has to change with the other owners first," he added. "If they say, 'Hey, it's a good idea to have Black ownership,' that would definitely happen.
"So the change has to be with them first, and then it would trickle down to us as Black athletes that could move from the field to the ownership box."

According to Axios, the Hornets are the seventh-most expensive sale price ever for a sports franchise, as six of the seven richest sales have come in the past 13 months. Jordan chose the right time to sell, or did he? The answer depends on your value system.

In April, Harvey Araton — a white man — wrote an article for the New York Times titled, "Michael Jordan was an activist after all." It detailed all the charitable things that Jordan did behind closed doors over the years, as it tied into the movie Air which focused on how Jordan's groundbreaking shoe deal with Nike changed the game for athletes — particularly Black ones — that allowed himself, James, and Tiger Woods to amass fortunes from The Swoosh.

The headline to Araton's was in response to the way many in the Black community have viewed Jordan's capitalistic ways after he infamously said, "Republicans buy sneakers, too," which was tied to the 1990 U.S. Senate race in North Carolina between Jesse Helms and Harvey Gantt. Jordan didn't come out and publicly support Gantt, who is Black. Jordan's comment and stance bothered people and still do.

The thing about activism is that it involves being active, which is something Jordan is giving up in the sale. Michael Jordan has the right to do what he wants with the Charlotte Hornets. However, history has the right to view his selling of the team as a lack of progress, especially since he's walking away when sports needs a Black owner more than ever.