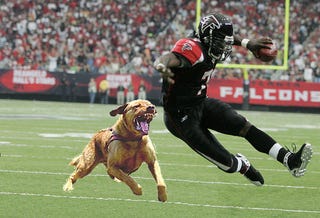 First off, I think it's a ton of shit when the media point to professional athletes as people that "have it all," as they've been saying about Plaxico Burress, for example. One thing they don't have? Common sense, apparently (who wears sweatpants to a club?) Michael Vick reaffirmed as much, when a report came out that Vick had spent over $200,000 on the day he went to prison.
The day he went to jail, Michael Vick bought a $99,000 Mercedes...He gave $28,000 to the mother of his oldest child. He paid a public relations firm $23,000 and gave a friend $16,000[...]

From Aug. 27, 2007, the day he pleaded guilty in a Richmond federal courthouse, until Nov. 19, the day he bought the new Mercedes before reporting to jail, Vick shelled out $3,627,291.
I can't wait to see Vick in a Bengals uniform in 2009, provided he can get Roger Goodell to forget all about this whole dogfighting thing.
Records show how Vick burned through fortune [Atlanta Journal-Constitution]
Thanks to Cari, Jamie, and Matt, who all sent this in.