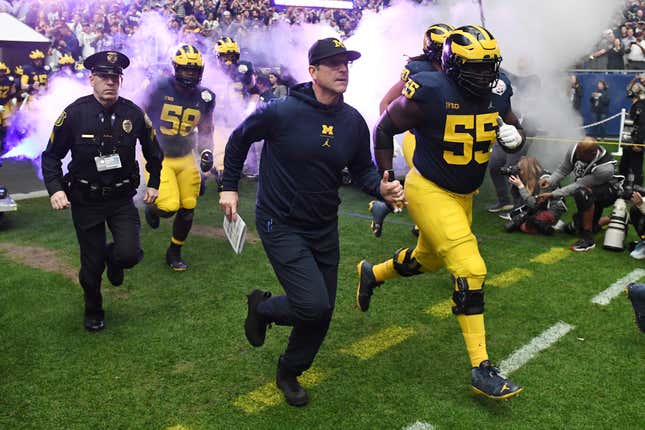 There's a difference between "working at the pleasure" of your alma mater and holding it hostage, and Jim Harbaugh is slowly creeping toward the latter. The University of Michigan coach made an overt pass at the Vikings opening a year ago at this time, and spent parts of this offseason chatting with the Denver Broncos and Carolina Panthers. Savvy U-M fans know this is something that Harbaugh does. It's a personality quirk that you just have to let him get out of his system.
It's advice similar to what Cousin Eddie told Clark about how to deal with his dog's Mississippi Leg Hound syndrome. "It's best just to let him finish" is never good advice, but neither is the alternative. Which is to reward him with a contract extension, and that's exactly what's in the works, according to university president Santa Ono.
The guy just signed a new deal last season, and the only solution AD Warde Manuel can come up with to appease Harbaugh is to throw money at him?
The coach even acknowledged the contract discussions and thanked them for their continued support.
That's not weird at all. Has anyone asked him about this quote from last year regarding his flirting with Minnesota?
"Warde, this will not be a reoccurring theme every year. This was a one-time thing. I told Warde, 'From here on out, I'm working at the pleasure of the University of Michigan, because that's, in my heart, where I want to be.'"
Listen, I know the system is broken. It seems like every moderately successful coach gets a new deal from an anxiety-riddled AD, and Harbaugh has been way better than moderately successful. All I ask is that one of these athletic directors sees what happens when they don't do that.
Daryl Morey refused to move Ben Simmons until he regained leverage, and more often than not, coaches are going to cede the advantage back to their employer. There are only two ways that Harbaugh can improve upon last year, and that leaves a wide swath of room for regression.
Other than Nick Saban and this small-ish sample size from Kirby Smart, programs and coaches have off years.
Why not call Harbaugh's bluff?
When Harbaugh stands at the door with bags packed, threatening to leave for the 3,000th time, call his bluff. If he wanted to go somewhere, he would've already left. Don't fight him, ask what you can do differently, and then cave.
His program was recently accused of recruiting violations, too. (Harbaugh refuses to say he lied to investigators, per reports.) Not that that matters, or that anyone should care, but it's at least something to give Manuel and Ono pause. Or at least justify not giving him another pallet of money.
What's the worst that can happen if U-M didn't show Harbaugh their "full support"? He actually leaves? That was likely the case already.
As much as I disliked Harbaugh reinforcing that the public shouldn't believe a word that comes from the mouths of college coaches, I think I hate Michigan's response to back up the Brinks truck even more. All that does is incentivize this kind of behavior from a coach — and college — standpoint.
When college athletics comes crashing down, there won't be some singular event — no meteor, no court case — at its core. It will just be a bunch of everyday, common practices that we accept as part of this taped-together business. And giving coaches contract extensions like banks used to hand out home loans will be Exhibit A.