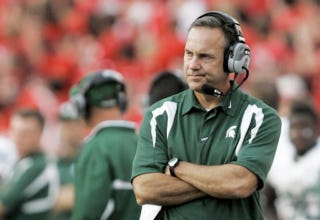 During a panel discussion on recruiting before the Michigan High School Football Coaches Association, Mark Dantonio stoked the flames of the Michigan-Michigan State rivalry. While Michigan State sent its head coach to the event, Brady Hoke was busy being honored as a finalist for the Bear Bryant Award. Michigan sent their wide receivers coach instead.
Many of the coaches, including Mark Dantonio spoke at the event. However, when Jeff Hecklinkski, who also serves as Michigan's recruiting coordinator, began discussing Michigan's approach to recruiting—at the panel discussion on recruiting in the state of Michigan—Dantonio cut him off.
Hecklinski told the coaches "everything starts" in the state of Michigan. Dantonio, who was hooked up to a microphone, jumped out of his seat and cut off Hecklinski, who did not have a microphone.

"OK, here's what we're going to do," Dantonio said. "We're going to get other people up here. We're going to talk about more than the University of Michigan.

"How many guys got a guy that's going to play in the Big Ten?" Dantonio asked the high school coaches. After a couple raised their hands, Dantonio said: "One, two - so the two guys can go back there in the corner and talk about that. All of us right here, we're going to talk about recruiting for everybody. Let's go."
...

"We'd have changed the whole situation. Because Mark wanted to be good for us, it wound up having the Michigan coach think he had more time to speak, and Mark lost his patience a little bit."

Hecklinski said he thought he had a 15-minute window in which to speak. He chuckled about it afterward and said: "Look, I understand my place. What took place took place. It is what it is. There's no reason to rehash it.
It is pretty obvious that Michigan State carries a chip on its shoulder when it comes to Michigan, just like many other "little brother" outfits toiling under the shadow of their respective big brothers. With that frame of reference and regardless of the intent of the presentation, Dantonio comes off looking pretty petty. Maybe because he feels like he's being big-timed while sharing a dais and splitting time with his rival's wide receivers coach?
Michigan State's Dantonio cuts off Michigan assistant [USA Today]
Brady Hoke, Mark Dantonio among guests at MHSFCA clinic this weekend in Kalamazoo [MLive]