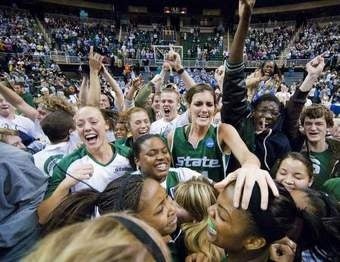 The NCAA women play most of their first- and second-round tournament games at on-campus sites, which sometimes results in "quirky" scheduling—like say, a 9-seed getting to play two games on their home floor.
The explanation is simple, of course—they need to sell tickets. It's hard enough to fill the Breslin Center for a regular MSU game, but try doing it for four teams that no one in East Lansing could give a rip about. So the Spartans (and some other teams that did not necessarily deserve it) got to play at home for rounds one and two, despite being the lower-seeded team in both games. So what happened? Two wins, including a sweet, sweet smackdown of top-seeded Duke, now led by State's former coach.
Joanne P. McCallie left East Lansing for Durham in 2007, one month after signing a $500,000 contract extension. She actually tried to sell it as a good thing for women's basketball, because the fact that one school would pay out big bucks to pinch a coach from another program means that the ladies' game has finally arrived. Yay, headhunting! Just like the men! I think the fact that a coach who took a team to its only Final Four appearance was booed on her return to campus probably says something too.
So yes, it's totally unfair that a No. 9 seed got to play two postseason games at home, but honestly ... no one cares. Spartan fans will take it.
Spartan women knock off Duke, McCallie, 63-49 [Lansing State Journal]
Duke's Coach P stands on way she left Michigan St [AP]
Losing Joanne McCallie to Duke was blessing in disguise for Michigan State [Gang Green]
2009 Women's NCAA Tournament Bracket [ESPN]