College students are lazy, apathetic creatures who only get excited by free pizza, which makes the fact that hundreds of University of Michigan students protested athletic director Dave Brandon's continued employment by the school all the more amazing. A "Fire Dave Brandon" rally was held tonight on the campus Diag, essentially the quad. Reports from the scene said that the rally was somewhat disorganized, but there is no doubt that a lot of students showed up:
After about a half hour, an executive decision was made to move the rally to Michigan president Mark Schlissel's house. Hundreds of fans of the most successful college football program of all time calling for the firing of the athletic director (occasional "fire Brady Hoke" chants broke out as well) on the lawn of the school's president. The pictures are great:
G/O Media may get a commission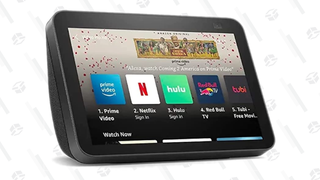 Make no mistake about it: Dave Brandon deserves to be fired. Whether it is overseeing a crummy football team, lying about a ticket giveaway, or not firing a coach that let a concussed player back into the game, he has been a failure as Michigan's athletic director. But you have to be a special kind of suck to inspire the same people whose main goal in life is to schedule no classes before 11 a.m. to protest you.
Photo via Alejandro Zúñiga