There are few teams across the Division I landscape that are as consistent as South Dakota State when it comes to reaching the postseason. The Jackrabbits play in the Summit League and have won the sprawling mid-major conference's auto-bid in five of the last seven seasons, and while none of those squads made much noise upon reaching March Madness, the first-round games weren't blowouts. Two of the losses (2012, '16) were within single digits, and the other exits, including a 66-46 loss (as a 16-seed) to eventual national runner-up Gonzaga, were much closer than the final score would indicate. They're good, in short.

But after dominating the conference, the Jackrabbits already know they're good. What they want is to dance into the tournament's first weekend. All that success suggests that the team clearly has the pedigree to spring a tourney upset at some point. The question is whether South Dakota State has the talent? This brings us to Mike Daum, the field's most interesting player and arguably the most interesting player in Division I this season.
Equipped with the best nickname in recent tournament history—"The Dauminator," which is even more satisfying to say than it is look at—the 6-foot-9 junior forward enters the 12-seeded squad's matchup against No. 5 Ohio State on Thursday having scored 2,205 points in his three-year career. He's done this by hitting deep threes, showing a deft touch at the rim, and with a first step and second burst that seem much quicker on game day than in film study. That point total isn't a typo or an accident. If he stays in college through his senior season—since he redshirted his freshman year and is eligible as a grad transfer, there is also a question of whether he even remains in Brookings, SD—Daum should crack 3,000 points. That will slot him in the all-time top ten of NCAA scorers.
If you'd only saw South Dakota State's first-round loss to Gonzaga a year ago, this would come as something of a surprise. In that game, Daum looked wholly unsure of himself and whether he could compete against a frontcourt stacked with future pros. After knocking down his first bucket a minute into the game on a Dirk Nowitzki-esque one-legged fallback jumper, Daum proceeded to turn the ball over on his next four touches. He didn't hit his first three-pointer until three minutes remained in the second half and Gonzaga led by double-digits. He finished with 17 points, but it was clear the forward—despite the hype, the pre- and postseason accolades, and avid coverage throughout the national media—was still very much a work in progress.
When I spoke with Daum late last week, prior to the NCAA selection show but following the team's third consecutive Summit tournament title, which culminated in a 97-87 win versus South Dakota, I asked whether he watched the Gonzaga video during this past offseason. "A few weeks after," he says, "and then never again. When I did watch it, I wished I would have been more active. It would have to led to me getting more shots." It wasn't something he watched for fun; he relived the game to mine the painful moments for how to improve during his junior year. "There were adjustments coach [TJ Otzelberger] and I wanted to make," he explains. "Being more mobile and active and moving without the ball. Most of the time I can create shots for guys back-cutting and setting screens, and that'll lead to me getting my shots. So I wanted to learn how to read defenses better and play better with what those teams are giving me."
G/O Media may get a commission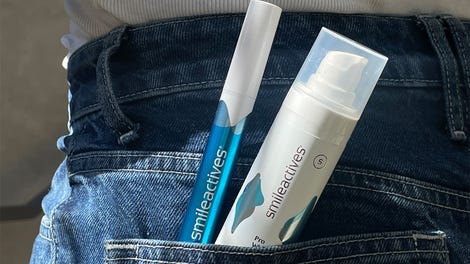 58% off
Whitening Powerhouse Pen & Gel Duo
This is the sort of thing players and coaches are supposed to do and say, but the consequences of Daum's film study have been startling and easy to spot. This is because they amount to a complete retooling of his game to better fit the evolving small-ball ecosystem of the NBA. Daum was already offensively transcendent—per Synergy Sports, the big scored 1.12 points per halfcourt play in 2017, which ranked first by a wide margin among all players with at least 600 plays—but the forward was limited as a soph. About 64 percent of his field goal attempts were within the arc, and nearly a third of his halfcourt plays originated in the post. He was still difficult to contain there, averaging 1 point per post-up, per Synergy, but given that the game is drifting away from post play, Daum would have to as well.
One byproduct of Daum's old game was that his teammates typically had to get the ball to him; per Hoop-Math.com, roughly a third of his two-point field goals were assisted on. And if the ball wasn't delivered to exactly the right spot at exactly the right moment, defenders could either push him off his spot or make his catch and subsequent attempt just a bit more uncomfortable. Against Gonzaga, Johnathan Williams, Przemek Karnowski, and Zach Collins switched every screen, ensuring that a defender was in front of Daum at all times. The Bulldogs tagged the SDSU forward every time he tried to free himself, bumping him ever so slightly to delay a drive or alter a shot. "It seems like defenses throw something funky at me every single night," says Daum. "I'll play ten defenses over the course of a week."
This is why Otzelberger scaled back Daum's attempts at the rim and instead added a wrinkle to his offensive repertoire, transforming the junior into a pick-and-pop savant. More than 15 percent of Daum's plays in 2018 involve either rolling to the bucket or popping beyond the three point arc—sometimes well beyond it. That's up from nine percent a year ago. Most of Daum's long-range attempts are from the top of the perimeter—or above the break—and while that shot is thought to have little analytical value compared to corner threes, they still count for three points and work perfectly for Daum, who is converting 1.08 points per pop.
As he raises his arms above his head, Daum's shooting motion appears to unfold in slow motion—elbows splayed, ball held slightly behind his head. That is, until he violently snaps his right wrist, propelling the ball to the basket with perfect rotation and symmetry. It's not a lab-crafted shooting motion, but it is unique. Daum's shot was honed over thousands of hours spent in the gym working out with his mother, an ultra-competitive woman who is in the Wyoming Athletics Hall of Fame and who regularly used to call her son a "pussy" during one-on-one training sessions that frequently turned physical.

Daum puts so much spin on the basketball that even though it violently rockets out of his hand, it settles softly upon drawing iron, provided it does at all. It's a memorable and mesmerizing motion, one that perfectly complements his game and seems tailor-made to keep defenders guessing. If a defender is step behind on the close out or the defensive shift, and Daum will splash his jumper; charge Daum aggressively, and he'll masterfully pump fake and drive the rim; even if a defender sticks to the scouting report, Daum could still convert with a hand in his face (per Synergy, he scores 1.2 points per catch and shoot while guarded).
That's why, following the 21 points Daum scored against Kansas at Phog Allen Fieldhouse, coach Bill Self came through with an extremely flattering comparison. "I was trying to think who he's like," Self said. "I'd say a poor man's [Larry] Bird. He can really shoot. He has all the footwork, all the shot-fakes in his game. He can post, obviously. He's an out-in type player. He definitely creates some issues from a matchup standpoint."
To further counter those defenses that followed Gonzaga's game-plan from last March, Daum worked to make his game more self-sufficient. Just 23 percent of his makes within the arc are now assisted, and he spent the summer studying players with a similar playing style and build—fellow big-time college scorers like Georges Niang, Doug McDermott, and Chandler Parsons.
"I've always been someone that can look at the little things like footwork, or how guys swipe a defender's hands away before taking a shot—things I can pick up and mimic in my own game," Daum says. In particular, Daum would talk with Niang once a week; the former Iowa State mismatch exemplar taught Daum the importance of creating exploitable angles. "If the defender is covering too much up top, I'll work my butt off to get to the top side of his shoulder, so that I can spin off him and have an open alley to the lane," Daum explains. According to Frank Dehel's Shot Quality metric, which measures the efficiency of a team's attempts, Daum is one of three players since February 1 to average 20 points and nine rebounds. The other two are Deandre Ayton of Arizona and Peyton Aldridge of Davidson.
In SDSU's non-conference quadrant I loss to Wichita State, Gregg Marshall's squad tried to defend Daum very physically, always making sure there was a body ready to bump him—the Gonzaga blueprint—but the junior's offseason work left him better prepared for that defensive gameplan. He dropped 31 points, with an effective field goal percentage (which weighs the importance of three-point field goals) of 62.5 percent. Marshall was effusive praising the junior forward following the game, again drawing comparisons to that fellow from French Lick: "He's like Larry Bird. He's a fantastic player who is probably going to play in the NBA. I just think he's a tremendous talent. Very versatile. Great skill. Great touch. Good size."
South Dakota State was also evolving around Daum. Year one of the Otzelberger era was all about "finding each other," the junior says; as the familiarity has grown between the coaching staff and the players, so has the team's efficiency. They're now scoring 1.14 PPP and ramping up the pace to 70 possessions per game. While the stylistic shift on face value was designed solely to impact Daum's game, it has wholly radicalized SDSU, turning the Summit League squad into a mid-major version of a contemporary NBA squad, one that eschews twos for threes and layups. "We're much more lethal on offense, and can afford to take risky shots," says Daum. Otzelberger also pushed his forward to crash the defensive glass more, reasoning that if he averaged a double-double, it would both appeal to NBA scouts and general managers and also lead to more offensive possessions for the Jackrabbits—and more pick and pop threes for Daum.
This is typically the part of any Daum profile—from the Athletic to ESPN to CBS Sports and Bleacher Report—where his struggles with body image and weight are mentioned. It's why Daum redshirted his freshman season, and why he isn't projected as favorably at the next level as his numbers might suggest. His body fat was at 19 percent when he first arrived at South Dakota State, and Daum says he has now cut it to 10 percent, though he still struggles with maintaining his frame.
That said, Daum has improved and expanded so many different parts of his game that it really shouldn't matter. He has proved that his pick and pop skillset and newfound array of moves can translate beyond the college game, and his game projects well when compared to past college stars: per College Basketball Reference, Daum's 2017-18 season matches up with both Jimmer Fredette's 2011 campaign at BYU and two of McDermott's Creighton seasons (2013 and 2014)—not to mention Damian Lillard's final year at Weber State. "I can be a match-up problem on offense like [those guys] were," Daum says. His professional future will depend upon it, but for a South Dakota State team that depends on Daum so much, his more urgent challenge is clear—Daum has shown that he can score, and that he can change. Now he just needs to show that he has one more breakthrough in him.
---
Matt Giles is a writer for Longreads, and he also freelances for several other publications, including the New York Times, New York Magazine, the Washington Post, Bleacher Report, and FiveThirtyEight.