You should ignore the two-win Buccaneers and their two-bit alarm-clock uniforms. The Bucs suck, and have been on the end of some of the worst beatdowns of the year. There is at least one bright spot, however: Mike Evans is putting up crazy numbers, and he's only 21.
Tampa Bay took Evans with the seventh overall pick, in a draft full of receiving options like Sammy Watkins, Odell Beckham, Jr., Brandin Cooks, and Kelvin Benjamin—who have all had their moments, too. Listed at 6-foot-5 and 235 pounds—about the same as Vincent Jackson—the Texas A&M product is a physical pass-catcher. With the Aggies, he was Johnny Manziel's first, second, and third option, and has the school records to show for it. Just watch him in Texas A&M's 2013 game against Alabama, burning down the field on deep routes, manhandling Alabama's secondary:
Evans finished the game with seven catches for 279 yards and a touchdown. Watch the improvisation on the play at 1:12, where he comes back about eight yards for a pass and then cuts across the field for extra yards. The Crimson Tide tried press coverage, and Evans made them pay for it over and over again.
These highlights from Evans's college career are instructive, because very little has changed. Evans has so far shown to be one of those rare receivers who doesn't really need to expand his game (or route tree) in the pros. There are some short plays mixed in, but Evans is mostly running deep, and producing at an absurd pace: 46 catches for 794 yards and seven scores, at 17.3 yards per catch.
Evans's totals are maybe even more impressive because he hasn't played this way the entire season. Offensive coordinator Jeff Tedford took an indefinite leave of absence after two games due to heart surgery, and first-year NFL assistant Marcus Arroyo stepped filled the role. It was unexpected, and initially disastrous. But as Arroyo's become more comfortable in his role, he's also become more aggressive—and it's paid off. Evans has caught 21 passes for 458 yards and five touchdowns on 29 targets over the last three games, easily the best stretch of his season. In those games, they've played two defenses that are weak against WR2s in Washington and Atlanta (+28.2% DVOA and +18% DVOA vs. WR2, respectively), but Evans has something to do with those numbers, and he similarly torched Cleveland, which is typically stingy against his position (-11.5% DVOA). Evans wasn't even slowed by a change at QB: Josh McCown replaced Mike Glennon two games ago, and Evans kept chugging. He's getting looks regardless of passer, and has made himself available enough to amass seven or more targets in all but one game this year.
G/O Media may get a commission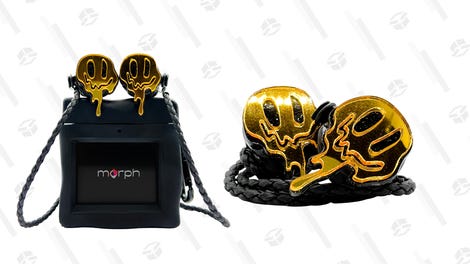 morph audio
Morph Earphones
There's a clear pattern of usage in those last three games. Out of those 29 targets, eight were for routes under 10 yards. The majority of the time, Evans was stretching out the secondary. Practically every play where the ball went to Evans, he was running deep, or curling back and using his vertical to get to the pass.
There's also a clear pattern to why these plays worked so well. Secondaries see Jackson as the top threat—which isn't incorrect—so Evans can match up against second cornerbacks, such as the Browns' 5-foot-9 Buster Skrine, instead of Joe Haden. Defenses would blitz, and hope their defensive backs could handle man coverage. Most of the time, these defensive backs would try to bump Evans at the line of scrimmage—usually you can jam a rookie. But rookie or not, most number-two cornerbacks aren't going to have much success bumping big Mike Evans. He absorbed the bumps, navigated the hand checks, then blew clean past them. When Glennon/McCown beat the blitz, Evans would be running free downfield.
Here's an example from Week 10. Falcons corner Robert Alford applied pressure. It didn't work:
But Evans gets deep even when you give him a cushion. Check out these two plays from Tampa Bay's Week 9 game against the Browns:
The first is a throw we'll come back to later, but look at that. Rookie corner Justin Gilbert plays off Evans, and when they meet, Evans cuts in then out to get a lot of separation. Fortunately for Gilbert, Glennon's throw is horrendous. All that space over the top, and he turns his receiver around throwing at the sideline.
On the second, Skrine gives a cushion to Evans, and the receiver doesn't even need a move. He just burns right past Skrine and comes down with a gorgeous over-the-shoulder touchdown.
With his three-game stretch, Evans has been one of this season's best deep threats. According to Pro Football Focus, Evans has a league-high 62.5 percent catch rate on passes of 20 yards or more. He's been targeted deep on a ridiculous 35.3 percent of his season targets, a top-five portion. Not only has Evans logged 17.3 yards per catch, but he's averaged 2.68 yards per route run. That number's only behind Jordy Nelson and Demaryius Thomas—you know, guys who have Aaron Rodgers and Peyton Manning throwing to them.
There's a reason Evans has been put in position to do this kind of damage: Most of the team sucks. Tampa Bay's offense takes the field with a league-worst average lead of -10.91 points. Their running backs are a mess—Doug Martin wasn't able to keep the feature-back role, and Bobby Rainey and Charles Sims didn't fill his absence. Mike Glennon and Josh McCown can't hold onto a job. The terrible defense keeps putting the offense out there in big holes from which it's obliged to attempt the riskier deep balls—and Evans has thrived once it does.
The other reason Evans can come off like this is that V-Jax still draws coverage. He had 29 total targets in the past three games, too, with 25 coming against the Browns and Falcons. Evans is doing more with his looks, but again, Jackson's the one facing the tightest coverage, allowing his teammate to exploit his matchups. It's a team sport! Not every team can find a reliable Y receiver who could be a starter somewhere else. It's actually exceedingly rare: In recent memory, Julio Jones and Roddy White pulled it off, but most offenses have to choose between size or speed at the second receiver position. Jackson, Evans, and the entire offense benefit from the relationship.
At this point, Evans's biggest limitation is the guy throwing the ball. He had 11 targets in the game against the Browns, and I watched the four balls he didn't catch. Three of those were very clearly Glennon's fault: One was overthrown for a pick, one was underthrown for a pick, and one was underthrown on a stop-and-go route that would have been an easy touchdown if Glennon had led Evans. Fortunately, the Bucs' schedule softens, with games remaining against the Bears, Bengals, and Panthers in their remaining schedule, so McCown/Glennon won't have to be flawless. Those poor CB2s have a lot to deal with.
Tampa Bay's season is clearly a crater, but there's hope, dammit. Any team would kill for either Jackson or Evans, and the Bucs have both. The offense's future depends on replacing virtually everything else, and the defense is a catastrophe, despite having a few good pieces. But two all-world giants as receivers isn't a bad start.
Photo: AP