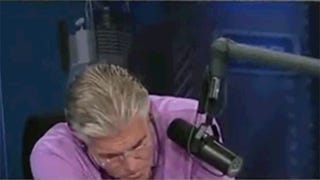 Are you near New York and thinking of proposing to your lover? Yay for you! But how and where to pop the question? Your cup runneth over with charming options: a favorite restaurant, somewhere with a stunning view, the afternoon drive-time show on WFAN.
Moe in New Jersey wanted to share his big moment today with Mike Francesa. Well, OK. Moe and his girlfriend Cindy are big fans, see, and they're "big Met fans." Moe was nervous, but this was it—he was ready to ask for Cindy's hand right there on the air, "in front of the whole New York."
Francesa, ever the hopeless romantic, was having none of it.
Sorry, Moe. Jimmy from Paramus wanted to talk A-Rod. Hope she said yes!
h/t to John Blanco