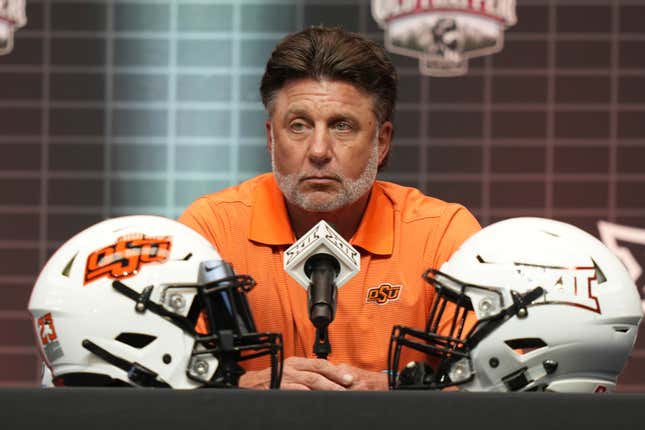 About 95 percent of the time, Mike Gundy's rants are nails on a chalkboard, a car alarm at 5 a.m., or any alarm in the morning. However, the other 5 percent? Gold, Jerry, gold! The latest redeemable instance came at Big 12 media days, when the Oklahoma State head coach tore into Oklahoma, and justifiably put the blame on the school's oldest rival for ending the Bedlam rivalry by jumping to the SEC.
"With all the talk from administration and that Oklahoma State has to do this and that [to save Bedlam], all Oklahoma had to do was not go to the SEC," Gundy said Wednesday. "So it is what it is. We can cut right to the chase. I don't think it is going to [resume] based on the schedule. And everyone has to realize that it didn't have to happen if [Oklahoma] didn't change leagues."
How running an NFL team is like running a restaurant | Chef Emeril Lagasse
Get 'em, Mike! Burn it to the ground!
"We have nine conference games [in the Big 12], and I think through 15 years, we are scheduled all the way up [in non-conference]," Gundy continued. "We are [fully booked] for the most part, and we have Power Five teams. And I'll go back to this: Oklahoma State is not going to change what we do because Oklahoma chose to go to the SEC. They need to change what they do, because they are the ones that made their minds up to go to the SEC."
*Maniacal cackling*
"In football, Bedlam is history in my opinion," Gundy told ESPN. "OU chose to go to the SEC. When they did, they took Bedlam with them. ... [Oklahoma athletic director Joe] Castiglione is a friend of mine, but when he and their president decided to go to the SEC, they took Bedlam with them. Do I like it? No. I like tradition."
GUN-DY! GUN-DY! GUN-DY!
"I like Big 12, I liked the old Big Eight," he said. "I like rivalries. I like the things in college football that have been around forever, but that's not going to matter anymore. All those things are history."
Say that last part again.
"I like Big 12"?
No, the part after that.
"I liked the old Big Eight"?
Yup, that's the one. *Exhales. Grabs for cigarettes.*
Sorry, where was I? Oh, yeah…
Rivalries are dead, and so, too, is the best part of college athletics
This is egregious, and there's literally nothing fans can do about it. Nobody wants USC and UCLA in the Big Ten, just like no one wants Oklahoma or Texas in the SEC. The entire thing is a money grab, and half these athletic directors and school chancellors shouldn't be allowed to realign their living rooms let alone historic rivalries.
I fucking hated when Nebraska left the Big 12, and ditto for Maryland in the ACC. Let's split up Duke and North Carolina, Ohio State and Michigan, Harvard and Yale. Any game that the fans and alumni look forward to, let's abolish it. Nix hot dogs and funnel cakes from concession stands while we're at it. Melt down every celebration chain, ring, and trophy and sell off the amorphous blob of precious metals and gemstones to keep those margins up.
Thank you, Mike Gundy, for contributing your voice to the abyss. Occasionally, it simply feels good to scream.