Growing up in North Carolina, there isn't a whole bunch that precedes college basketball. God (yes, of course). Family (well, depends on the family). But always in that top-three, above friends, work, and health, sits ACC basketball.
The sport—the entire NCAA model—is very clearly unethical. I spend most of my workdays focusing on the stupidity of fanbases that take this all way too seriously and derangement of athletic departments that work so hard to keep revenue away from players. It's a hideous machine, but it chugs along for a great number of reasons. Mostly, it's money. But for those who came to the sport via the Tobacco Road, there's also habit, the kind so powerful that it borders on indoctrination.
To their incredulity, I recently explained to my co-workers that every March, the tiny box TVs my elementary and middle schools owned be wheeled into our classrooms so that they could be filled with the only two things that really mattered during that wonderful week: ACC basketball and Mike Hogewood's voice. It was a ritual, and it wasn't exclusive to Rowan County schools. This simply was the way of life—when the ACC tournament was on, North Carolina kids knew you were either watching or listening, and for those of us that grew up cheering on mediocre programs, the only stability you could count on was the voice calling those early-round afternoon games.
Hogewood died on Wednesday. He was 63. For basically any sports-loving North Carolinian, the news of his death was shaking. It's not so much that Hogewood had a particular call that sent fans speeding to a specific, incredible moment—like Bill Raftery's "Send it in, Jerome!"—but that he always brought so much passion to every single broadcast, even if it was a lowly eight-nine seed clash. Hogewood loved ACC sports. He loved them so much, and more importantly, he developed an ability to exude that passion in a manner that can best be described as crazed articulation, so much so that as a fan, as a viewer, as a kid that went to school on gameday dressed in either red or one of two shades of blue, you had no other choice but to match and try to exceed that specific type of regional insanity. It was to the point that sometimes I still look at even SEC football fans and think how much better I had it growing up on Tobacco Road basketball instead. Excuse the cliché, but in a place where college basketball really felt more like religion than relief, Hogewood was everyone's pastor.
A great deal of Greensboro natives will recall Hogewood's voice booming over the local news on WFMY's Channel 2, bringing updates on NASCAR, monster truck rallies, and literally any sport that went down in the Greensboro city limits, but it was through his work at Charlotte-based station Raycom Sports that Hogewood became a fixture in the ACC-loving South. Though Dick Vitale's voice defines the Duke-UNC rivalry for the majority of the nation, Hogewood was there every week. He was there when Herb Sendek and my Wolfpack took on Clemson or Georgia Tech or Wake Forest; he was also, unfortunately, there when Sidney Lowe led them into slaughter against those same squads; and then, every year, he was there again when the greatest conference tournament that has or will ever exist was ready to tip off its first-round games between whichever lowly squad didn't secure a bye. Hogewood ruled the conference when the conference felt like it was North Carolina's, and he made those of us that followed along feel uniquely driven by a sport that was anything but unique to where we called home.
G/O Media may get a commission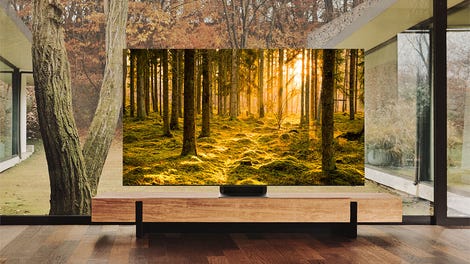 Up to 40% off
Samsung Smart TVs
Remember: Before the ACC was expanding every few years and spreading all the way up to New York, the conference was essentially a North Carolina operation, borne from the reality that the four major programs (Duke, UNC, N.C. State, and Wake Forest) were all within an hour's drive of one another. So, when the small city of Greensboro and the legendary Coliseum cemented its role as the semi-regular home of the ACC tournament back in 1967, the stars aligned for the next 40 years to ensure that Hogewood would find himself a mainstay and leading advocate for the tournament's return.
A lot has changed in recent years (looking at you HB2) to the point that the ACC seems to have developed a wandering eye, looking to share the once-local tournament with folks up and down I-95. Between 2016 and 2022, the tournament will visit Greensboro, the former center of the ACC galaxy, just once. The sports television field consolidated considerably during that time as well—Raycom's rights to ACC games went to ESPN, and Hogewood picked up gigs covering Olympics sports at FOX Sports and continued doing basketball and football work for ESPN, who subcontracted out their rights to Raycom. It wasn't the same, but, as always, where there was an ACC sport, there was Hogewood. He was forced to take some time off after suffering a stroke in 2009 and then somehow returned to finish out his career, and ultimately his life, calling the games so many of us saw as an obligation to tune into.
It took me a while to write these words, because it's nearly impossible to put into proper context just what it means to be barking at your TV over your preferred North Carolina basketball program from the moment you exit the womb. College sports are stupid to many people for very good reasons; Hogewood didn't exist to make you forget or remember those reasons. He existed and thrived because he loved to watch it and share that with you and just so happened to have a sonorous voice to pair that love with.
If you need more proof of just exactly what his death means to fans like me, you can scroll through Twitter or stop along some the towns dotting the sides of I-85 and chat with folks at the local BBQ haunt. Maybe that'll help better express the kind of depraved madness following a bunch of young, developing, unpaid athletes can pull out of a person; probably not, because it is madness, but it exists, and folks like Mike Hogewood are to credit for making that madness feel a little less isolating, and lot more joyful.