It's a top heavy day—all but three games are in the 1:00 p.m. slot—with some important divisional games, including the paragons of serenity you see above. But enough about them, let us not waste any more time with idle chit chat and get down to brass tacks.
Washington at New York Giants (FOX): A lot at stake in this one. First place in the division and...OK, so there is one thing at stake in this one. But it's a big thing, right? It's kind of strange that people are just now wondering aloud if the Giants are for real. Putting aside the whole defending Super Bowl Champs thing, everyone just always seems surprised that the Giants don't operate an offense or defense like someone trying to use the other brand in an infomercial. While most analysts fall all over themselves to talk about, say, the Packers and how Green Bay is still as good as everyone said, despite a slow start, Eli and the Giants just sort of exist on the periphery. It's probably because Eli is a hopelessly awkward rube who appears to put up enormous numbers in spite of himself but still, strange all the same.
Tennessee at Buffalo (CBS): I am sorry if you are seriously watching this game without a hint of irony. These must be dark times. But there is always that light at the end of the tunnel, right? You might be dead, but that's probably better than willingly watching the Tennessee Titans and the Buffalo Bills anyway.
New Orleans at Tampa Bay (FOX): Jonathan Vilma will play today. According to ESPN he will play somewhere between 20-30 snaps. 20-30 snaps shakes out to about 60-150 allusions to the "emotional boost" Vilma will provide. This narrative is tailor made for a duo like Dick Stockton and John Lynch. Lynch the vocal defensive leader in his day, Stockton the confused and rambling old man surprised to find himself inside a television booth—they're gonna be all over this. And then Vilma will go back to being suspended after Paul Tagliabue upholds Roger Goodell's suspension rulings because the NFL is a farce, wrapped in a joke, inside a disgrace.
Dallas at Carolina (FOX): Is Cam Newton just a younger Tony Romo without the chesty, hot mess of a blonde jinx/ex (seriously, remember this?) and PGA tour aspirations? Romo is definitely more accurate but the Cowboys can't ever seem to put anything together and the Panthers, well, yeah. Same. So maybe it's not so much Cam is the new Tony without the crazy boobs, but the Panthers are the new Cowboys without the crazy boob.
G/O Media may get a commission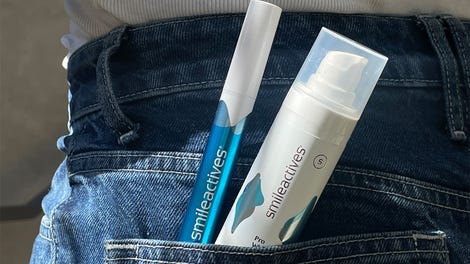 58% off
Whitening Powerhouse Pen & Gel Duo
Baltimore at Houston (CBS): Here's an exciting match up between two 5-1 teams. Baltimore: historically defensive team with terrible offense that is now relying on its offense to cover up defensive issues. Houston historically offensive team with terrible defense notorious for giving games away late that now has a solid defense...or maybe not. They just got smoked by the Packers, allowing Aaron Rodgers to throw six touchdowns. Both units are banged up and since the Ravens defense was already shaky with those guys in it, my even shakier logic informs me that the injuries will hurt Houston more.
Cleveland at Indianapolis (CBS): Thinking about this game makes me thankful there are no professional teams in Delaware. Can you imagine that nightmare?
Green Bay at St. Louis (FOX): Both teams are 3-3 and if you looked at this game in the preseason and thought both these teams would have the same record going into it, put the scissors down, you should not be allowed near sharp objects. This is a classic trap game for the Rams fans. You're feeling pretty good about the team and you see a struggling yet perennially great team come in. Ripe for the picking, you think. St. Louisians (is that what you're called?), you will not want to watch football for the rest of the day.
Arizona at Minnesota (FOX): The phoenix rises again. John Skelton is back to win football games and date your sister in such a polite and respectful manner that even your dad will agree he is the best. All it took was Kevin Kolb's ribs taking some time away from his sternum and the Cardinals season is back on track. The only reason he even threw that interception last week was because he did not want to get credit for winning a game he did not fully play in. It would have been unseemly and John Skelton is about the most seemly guy around. Easy prediction: Arizona 107, Minnesota 3.
What You're Watching
Go here to see if you're getting screwed this week.
Via The 506. CBS:

FOX:

Photos via Getty