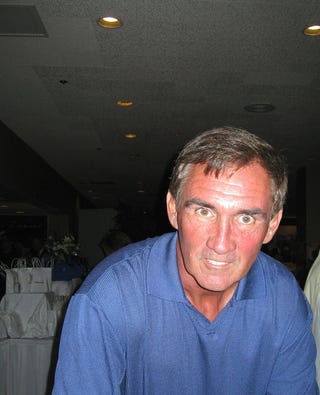 If Norv Turner isn't getting himself fired, he might as well cause someone else to lose their job.
Mike Shanahan was let go by Broncos owner Pat Bowlen after 13 seasons as head coach, two Super Bowl victories, hundreds of shifty scowls, and hours of tanning salon sessions.
The national news is all over this story, yet no one seems to be acknowledging the fact that National Football Posts' Mike Lombardi broke it a full hour before everyone else. So good for you, sir. You are a noble pamphleteer.
Now, since Shanahan is too scary to put on television, where will he coach next?
Broncos fire Shanahan [Denver Post]
******
Tonight: Get your ya-ya's out.
Tomorrow: We're gonna go half-day and not feel a tad guilty about it. Come stop by and say your last goodbye to 2009 if you're not rushing to the phone to call.
Thank you for your continued support of Deadspin and Buzz Bissinger.