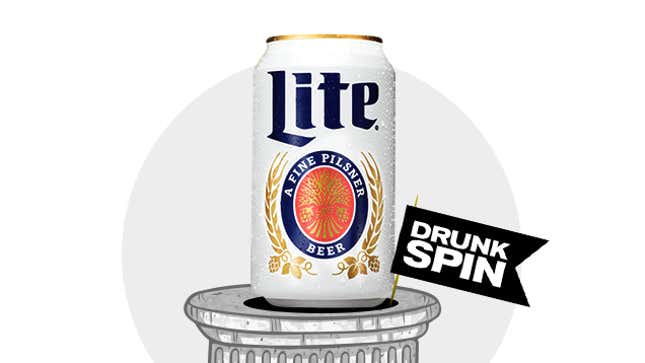 The Brewers Association held their prom this past weekend, and in keeping with timeless prom tradition, I was left home alone while all the cooler boozers attended the Great American Beer Festival in Denver. (Incidentally, my invitation to the Spring Formal was also lost in the mail, as April 11 saw me at home with the cat rather than in Denver for the World Beer Cup.)
Air Jordans are more American than McDonald's French fries | Deon Cole's Ultimate Sports Fantasy
That's cool, and I'm not bitter at all, and these slights will in no way influence the following even-handed analysis of the judges' decisions. The GABF cabal awarded medals on Saturday, after a couple days of typical trade-show baby-kissing, ass-grabbing, and general LARPing around with a beer in one hand, a beer in the other hand, and no hands left to wring over the fate of the cat and I, who, don't worry, were JUST FINE catching up on The Mindy Project over mugs of tear-spiked Schlitz.
The GABF was first held in 1982; the judges/awards action began in 1987, with only 12 categories at first (including several historical oddities, including Samuel Adams Boston Lager's gold in the long-retired Continental Pilsner category). Things have expanded a bit since then. This year the judges considered 90 distinct styles, including Field Beer (46 entries), Specialty Honey Beer (56 entries), and Belgian-Style Strong Specialty Ale (64 entries). Congratulations to gold medalists 10 Barrel Brewing Company Cucumber Crush, Wicked Weed Mampara, and Utah Brewers Cooperative Squatters Hell's Keep, respectively.
Beer Advocate columnist Andy Crouch admitted Saturday afternoon that he hadn't heard of 90 percent of the breweries being called up to the podium; while that may have been a bit facetious, it does highlight the larger point that there are more than 3,000 breweries in the United States these days, and that many of the newer, smaller, and therefore more obscure ones are producing the best beer. If there were a Massachusetts-only beer awards show, most of the medals would go to such outfits as Trillium, Tree House, and Wormtown. Heard of 'em?
But here's a familiar category with a familiar winner: The judges selected by the Brewers Association to oversee the awards at their preeminent industry gala have declared that Miller Lite is our great nation's best American-Style Lager or Light Lager. I kinda like Miller Lite, and the shortest hair on the youngest GABF judge's beard knows 10 times more about beer than I ever hope to, but: What the fuck?
There were 32 entrants in this category, and only two others have been revealed to the public: silver medalist Coors Light and bronze-winning Coors. This suggests that either a) MillerCoors is a much better brewing conglomerate than we give it credit for, b) the whole damn thing's crooked, or c) not many good breweries bothered to enter their wares in this particular field. It's likely some combination of the first and third options, though I can't be certain, because not only did the Brewers Association decline to invite me to their party, they also haven't responded to my request for the complete list of entries (to be fair, I didn't email until this morning, and they're a couple time zones behind me and just wrapped up a gigantic event with "Beer" in the title; I'll tack the full list onto an updated version of this post if I ever hear back).
This sort of judging is inherently subjective, sure, but it was also carried out by some of the most qualified people in the industry. So one possible conclusion is that these pros, judging blind, aren't as instinctively dismissive of the macro brewers as the rest of us are. Another possible conclusion is that they're out of the goddamn minds. Either way, here's the official Drunkspin review of Miller Lite.
Miller Lite also won GABF gold in its category in 2010, as well as silver in 2003 and 2012, but it has not fared quite as well in Drunkspin competitions. It finished 5th of 24 in a light-beer ranking that included imported as well as craft lights, and 6th of 36 on the list of cheap American beers. These are strong showings, but they don't suggest that we're dealing with "a world-class beer that accurately exemplifies the specified style, displaying the proper balance of taste, aroma, and appearance," which is how the GABF defines its gold standard.
I've never had a bad Miller Lite (nor a particularly good one), which is a credit to the manufacturer. Most brewers have grudging respect for the consistency with which Big Yellow manages to mass-produce its beers, and I think Miller Lite is the best of the bunch in that and most other regards. It is clean and crisp, with no off-flavors (as long as you're willing to accept a small dose of lemon pith, which doesn't seem to come from either hops or lemons, but also doesn't do any harm). The predominant impression is of liquefied, carbonated Cheerios. That'll do.
But I'm not comfortable with it winning a major national competition until I see the ballots.
---
This is Drunkspin Daily, the Concourse's adequate source for booze news, reviews, and bullshit. We'll be highlighting a beer a day in this space; please leave suggestions below.
Will Gordon loves life and tolerates dissent. He lives in Cambridge, Mass., and has visited all of the other New England states, including, come to think of it, Vermont. Find him on Twitter@WillGordonAgain. Image by Jim Cooke.
The Concourse is Deadspin's home for culture/food/whatever coverage. Follow us on Twitter.