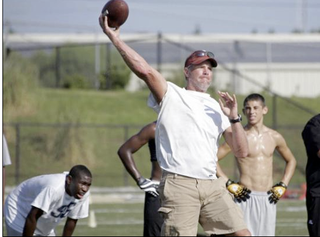 The Minneapolis Star-Tribune isn't missing out on an opportunity to set purple hearts aflutter, so they've decided the best way to satisfy their wild-eyed readers infected with Favre Fever is to dedicate an entire section to him.
Here you can see follow every subtle hint from coaches, players, and, of course, The Ol' Gunslinger himself that the the chances of seeing him throw back-breaking interceptions next year for the Vikings is "99.9 percent." But then ESPN swoops in and has Favre telling anxious Minnesotans that he'll make his decision by July 30th, after he's thrown enough go-routes to Mississippi teenagers. And, hey, there's Aaron Rodgers at the ESPYS, looking like a man who should rightfully give two shits about this ordeal.
The adorable Green Bay Press-Gazette isn't flinching this year and has completely eliminated its Favre Watch altogether. Besides, how can they even think about Favre when a real hometown hero like Tony Shaloub just received his seventh Emmy nomination?
Minnesota Media Bows To Lord Favre [PFT]
The Favre Page [Minneapolis Star-Tribune]