Welcome to Minor Enterprise, where we preview, and occasionally review, the great events of minor league baseball. Each Wednesday we'll take a look at the promotions, players and mascots which populate our minor league ballparks; the unsung heroes of our national pastime. (Minor Enterprise not responsible for items thrown by Joe Mikulik). If you have a good tip about a minor league promotion, or perhaps you're dressed as a large mascot beaver and are hopelessly stuck in the suit, contact us at tips@deadspin.com.
We were wondering when Minor League Baseball would get around to addressing baby car safety as it pertains to pop divas, and now that time has finally come. Friday is Britney Spears Baby Safety Night for the Newark Bears, as babies from throughout the tri-state area prepare to invade Riverfront Stadium as the Bears take on the Road Warriors for a 7:05 p.m. tilt (dangerously close to most baby bedtimes). But it's all in the name of baby safety. Fans who dress as a baby, present a baby toy or bring a baby (4 and under) receive free admission. Baby safety literature will be distributed, and of course there will be fireworks. No, baby, don't touch that lit fuse! Thanks to Jen Gaffney and Christopher Michael Bellinger, by the way, for bringing this to our attention.
Other minor league promotions coming up this week:
• Superhero Saturday (Atlantic City Surf, Independent Atlantic League). Drag out your He-Man costume and head out to this game, where all fans wearing superhero garb will be admitted for $2. It's sure to be a dignified event rivaling any comic book convention ever seen on the East Coast. And if you're busy Saturday, there's always Weiner Wednesday, which is happening today. We assume there's free hot dogs involved, although it could just be a warmup for Superhero Saturday. (Thanks to Travis Witmeyer).
• Napoleon Dynamite Night with Efren Ramirez. (Tonight, Mahoning Valley Scrappers, New York-Penn League). "Tina, come get some ham!" You're rubbing your eyes in disbelief as you discover that, not only are the Scrappers honoring the 2004 cult classic film, but Efren "Vote For Pedro" Ramirez will actually be in attendance for the game against the Batavia Muckdogs. So strap on your skates and get your brother to tow you in to town, you're not going to want to miss this one. (Thanks to Benjamin Hill).
• A Weekend of Anti-Red Sox Promotions. (Friday through Sunday, Staten Island Yankees, New York-Penn League). After the Lowell Spinners — an affiliate of the Boston Red Sox — offered to replace any Yankees youth team uniforms with brand new Spinners uniforms earlier this year, the Staten Island Yankees decided to retaliate. Fans who arrive at the ballpark with a donation of Red Sox clothing will receive free admission, and in honor of Johnny Damon the club will be giving away free haircuts and shaves. Former Red Sox great Jim Rice will be on hand Sunday. (Thanks to Benjamin Hill).
G/O Media may get a commission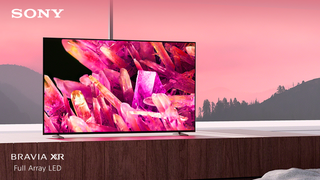 $400 off
Sony 55 Inch 4K Ultra HD TV X90K Series
• College Course Giveaway. (Friday, Southwest Michigan Devil Rays , Midwest League). Yes, the Devil Rays will give away three three-credit college courses at nearby Kellogg Community College. Proving once again that, in the U.S., academics rule. Ha! Take that, Japan! (Thanks to Benjamin Hill).
• Minor League Mascot Of The Week. When we saw the team name — West Tennessee Diamond Jaxx — we knew that their mascot would be either horrid or confusing, and possibly both. Indeed, Ribbee looks like something dreamed up by Hanna-Barbera cartoonists suffering from plague, or else is the rejected fifth Banana Split. We'd also like to point out that the wearing of a large mascot costume does not give one press box groping privleges. Harold Reynolds was fired for something similar, yes?
• Bobblehead Of The Moment. Chris Weinke played for the Tennssee Smokies in the 1990s, spending six seasons in the Toronto Blue Jays minor league chain before switching to football, where he won the Heisman at Florida State. Now you can relive his baseball glory as the Smokies hand out Chris Weinke Trophy Dolls on Saturday, before their Southern League game against the Birmingham Barons. The doll features Weinke striking the Heisman pose, while wearing a Smokies baseball uniform (?). If you go over to eBay, it's backing up the Jake Delhomme bobble head doll. Anyway, there's a picture of it after the jump, which was sent in by Kyle Herschelman.
• Minor Enterprise Almost-Eyewitness Report. If you're like us, you were wondering how that Rochester Honkers promotion, "The World's Biggest Game of Simon Says," went last week. Reader Jeff Pieters was there, sort of. He files a report, after the jump.

————————————————————————
Here's the final report on the World's Biggest Game of Simon Says. (We were among the early departers, as, by the seventh inning, my son was begging to go home to sleep. I was worried the beer I'd had would have altered my testosterone level and invalidated any records, anyway.) So anyway, here's what Kim David at KROC AM News wrote about it:
"The Rochester Honkers baseball team had hoped to set a world record last night by organizing a huge game of Simon Says. The current record was set in April in Glasgow in a game that had 1,169 participants. It appears the local effort came up short by about 600. A possible reason for the short number — the Honkers lost 11-3, and many fans may have left early."
Chris Weinke Trophy Doll