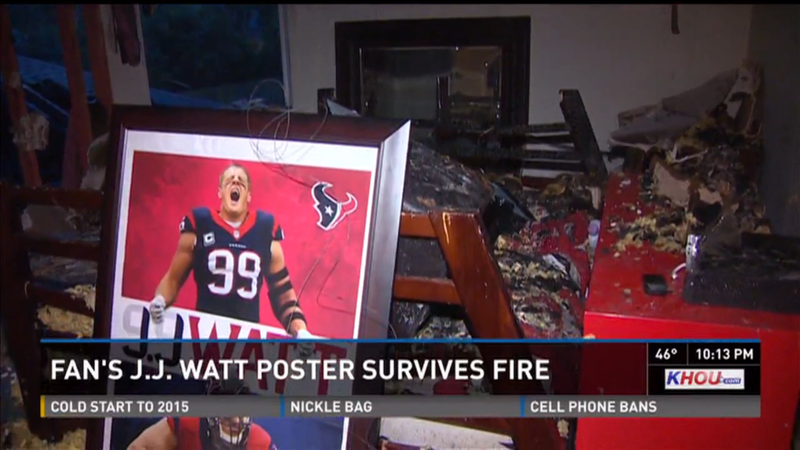 This is so local news. A fire tore through one family's home in Katy, Texas, on Sunday. Everyone got out in time, although the home was seriously damaged. This is a really sad story and the KHOU report shows all the charred remains and holes in walls, but it can't help but focus on what survived:

"In the middle of it all, this one poster went untouched," reporter Alice Barr says as the camera shifts down to a poster of J.J. Watt.
And in case you had any doubts, they make sure to show you the back of the poster and, oh my God, even the back is unscathed! Barr chimes in again, to reaffirm this miracle: "Only adding to the legend of the Texans' J.J. Watt."
If you keep listening, Barr mentions that this isn't the family's first tragedy. Mom Candi Sanderfer had a son murdered two years ago. She thinks a flickering TV that night might have been that son, Javier Torres, warning them to get out. The possibility is raised that no one was hurt on Sunday because twin guardian angels—the dead son, and the poster of the football player—were watching over the family.
Barr then tosses back to the studio, where the anchors give us this insight:
"I would say the fire was afraid."

"Of J.J.?"

"Yes."
If only they had built the entire house out of J.J. Watt posters.
[KHOU]