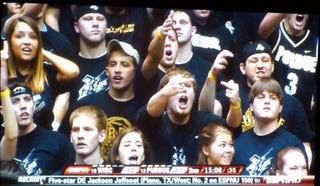 Because no one reads the newspaper, and SportsCenter's anchors are too perky for this early in the morning, Deadspin combs the best of the broadsheets and the blogosphere to bring you everything you need to know to start your day.
•Purdue held off No. 16 Wisconsin, 60-57, and win the right to not lose to MSU until the Big Ten final. (Thanks to all those of you who sent screengrabs, but Ryan wins because his was the clearest)
•J.J. Redick(!) nailed a clutch game-tying three, and Rashard Lewis hit a runner with 1 second left to complete a 16-point comeback for the Magic against Boston. That signing of Rasheed Wallace, pretty much exclusively to handle Orlando's big men, has worked out gangbusters, huh?
•Chad Ochocinco has been practicing placekicking, in hopes of showing his stuff in the Pro Bowl. He could really impress people by playing defense. Actually, any of the defensive players selected could impress people by actually playing defense.
•Andy Murray advances to the Australian Open final, and could become the first British man to win a Grand Slam title since 1936. Oh sure, now they'll claim him as "British." But when a Scot is passed out drunk, or pinching pennies, or mounting his sheep, they want nothing to do with him.
•LeBron was fined $25K for kicking a water bottle during Wednesday's game. Showing what we all knew deep inside, but were afraid to admit to ourselves: that the water bottle cartel has unlimited sway over the NBA.
•••••
Friday morning, sun is shining. Get your blog on.