Mizzou basketball games have long been attended by a student cheering section known as the Antlers, and it is a cheering section that is apparently full of huge dick heads. The entire section has been kicked out of two games this year by university police, and the school's athletic department just released a list of horrible things that they have been saying this year.
Last night, Mizzou beat IUPUI 78-64, and with 14:48 left in the game, the Antlers were removed from the arena for making vulgar comments. The same thing happened during Mizzou's previous game against Gardner-Webb.
So what have the Antlers been saying that's so offensive? Last night, Mizzou's athletic department released a document detailing what's been overheard at recent games to a few reporters. It's been floating around Twitter, and some of the stuff on it is pretty bad.
A few selections:
At an opposing player who was cut during the Hawaii game: "If Magic Johnson can play with AIDS, you can play with a little cut," and "Someone take our team to get AIDS tested."
At an opposing player wearing long sleeves: "What are you trying to hide, prison tattoos or track marks?
During a free throw: "Raise your hand if you thought Hurricane Katrina was a good thing."
During a free throw: "[Insert player] sleeps with a night light. [Player's teammate] is the night light."
G/O Media may get a commission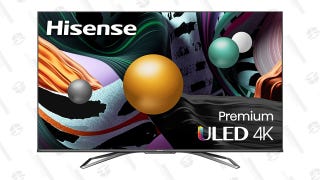 Save $350
Hisense ULED 65" Android 4K HDR Smart TV
The document also details some things that the Antlers chanted at an injured player from South East Louisiana. Things like, "Just give him a box of tampons, he'll be fine." Here's video from that moment in the game. You can't really hear what they are saying, but it's clear that some not-friendly things are being shouted:
The Antlers have been defending themselves on their official Twitter account, and have acknowledged that some awful things have been said in the past, but claim that they are trying to get better:
So that's nice! But overall, whoever is in charge of this Twitter account isn't doing the Antlers any favors:
Maybe it's best to just take a few games off, Antlers.
Top image via Sarah Dettmer