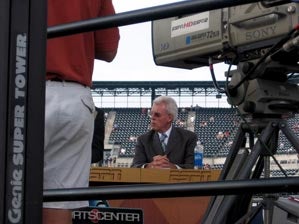 That ongoing feud between ESPN and Major League Baseball — which was launched when ESPN announced the All-Star team minutes before MLB was about to, "exclusively" — has graduated from the All-Star Game to the postseason. ESPN isn't covering any postseason games, and now, it looks like, they don't even want to promote them.
Citing network policy, ESPN says it does not accept advertising that promotes competitive programming on other networks unless it is contractually obligated to do so - and it states that it's not obligated to under its new media deal with MLB. It says other networks have similar policies.
The good news is that there will be less Dane Cook on ESPN. The bad news is that Peter Gammons and company could be banned from setting up their "Baseball Tonight" remote shoots inside the stadium.
By the way, here are those TBS broadcasting teams:
Chip Caray-Tony Gwynn (Craig Sager on the field)
Ted Robinson- Joe Simpson (Marc Fein)
Don Orsillo-Steve Stone
Dick Stockton-Bob Brenly
We don't know who some of those people are, which immediately makes them improvements on Joe Morgan.
ESPN And MLB Feud Over Playoff Promos [The Fanhouse]