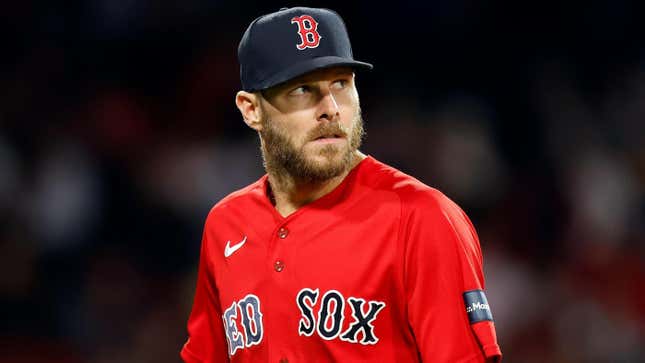 The Boston Red Sox are going to have to have a sale at the MLB trade deadline, which could include a pitcher (Chris) with that surname.

Is the new pitch clock good for baseball?
Middling position players! Middling position players for sale! Buy one get another half off! That's what the Red Sox front office is going to sound like in late July. It's already clear this team — in last place after 25 games — doesn't have enough to be a contender and will be on the "win later" side of trade deadline deals.
Chris Sale's career is as good as over. After years of struggling with injuries that limited him to just 11 starts in three years, it finally seems like he's healthy enough to play — but not healthy enough to be any good.

The seven-time All-Star has an 8.22 ERA through five starts. In his latest start on Monday against the Orioles, he blew a 4-0 lead in what would turn out to be a 5-4 loss, inducing just two swings-and-misses with 83 pitches and not striking out any batters.

I joked with my friends that he would destroy more clubhouses than he gets wins, but that was mostly because I thought he'd get hurt again. If you're lenient enough to count his tantrum in the dugout on Monday then it's all even at one-a-piece.
Offseason moves not paying off
The Red Sox are going to be sellers at the deadline for many more reasons than Sale's performance. This team made a lot of head-scratching moves in the offseason that made me think not even they know the direction they want to go in. A lot of the pieces didn't feel like they fit together; like a lot of players who could help a contender but it feels weird to see them all together on the same team.

They signed international free agent Masataka Yoshida whom American fans became acquainted with while watching the World Baseball Classic. That's a move I like. He's clutch, and has hit for a great average throughout his career.

Adam Duvall? OK, sure. It's always nice to have another outfielder. He was actually mashing with a .455 average and four home runs through eight games before getting hurt, but it's hard to see that lasting.

Corey Kluber? He was actually pretty good the past two years so I can't be too mad about that one even if he has a 6.75 ERA this season.

And 38-year-old Justin Turner to be the everyday DH? That's certainly a creative choice.

It also slipped their mind to acquire a shortstop after losing Xander Bogaerts for nothing in free agency because they didn't trade him at last year's deadline.
Coming into the year, they only had a combined 148 big league starts at shortstop on the roster split between Kiké Hernández (64), Justin Turner (30), Yu Chang (36), Christian Arroyo (17), and Bobby Dalbec (1). They've mostly been playing Hernández and Chang, but have been toying with the idea of having Dalbec play there, probably to get more power in the lineup.

They don't really have a shortstop. I mean, yes someone plays shortstop every game but it's none of these players' primary position. You wouldn't call any of them shortstops the same way you don't call Brett Phillips a pitcher even if he's on the mound.

To be clear, despite these problems, the Red Sox aren't even a bad team. By now this probably reads like a complete hit piece but they have a formidable lineup, scoring the fourth most runs per game in the majors. They even had a winning record, but the problem is that they're in last place.

Put them in the AL Central and they're either winning the division or are in the race until the very end of the season, but they're unlucky enough to be in the East. They finished in last place in 2022 and they didn't improve enough for that to change in 2023.