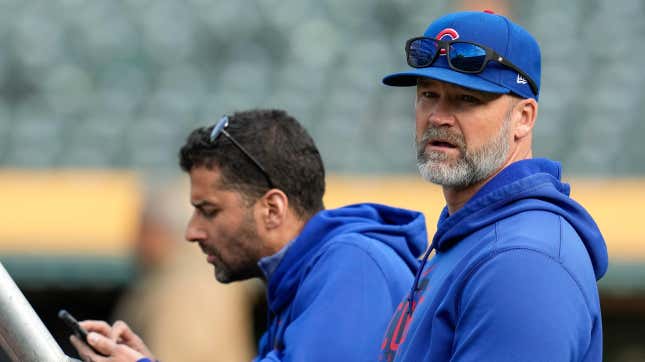 Modern baseball thinking has it that the manager in the dugout is just an extension of the front office. He pressed the buttons he was told to, and if he can help manage personalities and keep a bunch of millionaires from knifing each other over seven hot months, so much the better. So maybe David Ross doesn't have much of a chance given that Chicago Cubs GM Jed Hoyer wears a propeller beanie at all times. But then again, it's looking like getting David Ross to press the right buttons is something like Rocket trying to get Baby Groot to do so at the end of the second Guardians of the Galaxy.
You may not know this, because the Cubs spent years undercutting their World Series-winning team and then actively destroying it and being bad the past two seasons, but the 2023 Cubs are not bad. Maybe they're only not terrible, but they could actually even be just below OK. They have the third-lowest rotation ERA in MLB, thanks to Justin Steele becoming a breakout star and Marcus Stroman's latest bid to be traded to a contender again. Fuck they might have gotten a perfect game out of Drew Smyly had his catcher not suddenly thought he was Christian Okoye. The pen is top 10, and even the offense is 10th in runs as they've brought Cody Bellinger back from the land of wind and ghosts.
You'd think Ross is doing a great job...think again
So on the surface, you'd think Ross was doing a great job. These Cubs were not expected to be any good, maxing out at somewhere around 78 wins. And yet, with all three units of a baseball team being among the 10 best in baseball, the Cubs are…17-19. They have a +42 run difference, which is better than the Dodgers and is second-best in the NL. They're third in the Central. Even if you were to apply a games-against-Oakland discount to their run difference — which really isn't fair because everyone's going to get at least three games against the A's — their Pythagorean winning percentage would still have them at 20 wins and above .500.
But they're not. And a good portion of it is because Ross is a paint chip eating idiot.
Eric Hosmer, Trey Mancini look finished
The main point of contention for Cubs fans is lineup construction. And it's a viable complaint. We're six weeks into the season, and both Eric Hosmer and Trey Mancini have proven to be clinically dead. Both have led the Cubs in starts at DH, the second half of that acronym standing for "hitter." A skill neither Hosmer nor Mancini have anymore, as they've combined for a wRC+ of toilet wine.
Take last night for example. The Cubs lost to the Cardinals for the second straight night, which isn't something easily accomplished these days. Maybe the Cubs just wanted to toss even more dirt on Willson Contreras, a campaign they started and the Cards then juiced so they could justify not paying him. Anyway, the Cubs certainly had a lot of chances to seize the game. Starting in the very first inning, when they loaded the bases with one out, and could have gotten on top early. How'd that go?
OK, Hosmer didn't leave all 12 runners on base in that AB, but you get it.
And it's not like the Cubs haven't had alternatives. Edwin Rios or Nelson Velasquez are far from perfect players, and strike out a lot. But they also have a ton of power, and yet Ross could only find 57 combined plate appearances for them while Mancini and Hosmer have combined for 219 plate appearances that are a Pagliacci joke.
It goes further. Ross has been insistent on tossing out Nick Madrigal either at DH or third base, and a baseball version of a turtle race would be to see if Madrigal can throw or hit the ball farther. He also led him off last night in the absence of Nico Hoerner, even though Madrigal can't run or walk or take a pitch and Ian Happ and his league-leading walk rate is sitting right there. Madrigal has also been called on to pinch run many times, and he's not fast or smart on the bases.
The Cubs have since called up two exciting kids — Matt Mervis and Christopher Morel — both of whom were clowning AAA. Ross doesn't know how he'll get them enough ABs, Morel especially, even though he can play pretty much every position outside pitcher and catcher. He could easily fill in for Hoerner at second while he's hurt (and the crack Cubs medical staff will assuredly turn a day-to-day injury into a month-long one), or play third while moving Patrick Wisdom (11 homers) to either first or have him attempt to not drown in the outfield. He could also DH.
Ross has handled the DH spot so well that he has had to pinch-hit for the spot multiple times during the season (12), which shouldn't really be a thing you have to do for a spot in the lineup where hitting is all they're supposed to do. The season slash line on the Cubs DH spot this season is .193/.267/.192.
Ross's bullpen management has been atrocious
Ross's handling of the pen hasn't exactly drawn rave reviews either. Just last night, he had Javier Assad throw five innings of sterling work after Jameson Taillon once again lit his face on fire, but not only left Assad out there for a sixth inning of work in the ninth of a tie game, he didn't have anyone warming up. Assad gave up a leadoff homer to Paul DeJong and then another bonus run because he was out of gas with absolutely no one ready to come in behind him. That was just the latest example of Ross's distracted-by-tin-foil handling of his pen, where Michael Fulmer and Julian Mayweather continue to get late-inning assignments with their ERAs over 5.00.
Throw in the usual bad manager horseshit of bunting in odd situations (or at all), bad base running, and an over-reliance on vets who have turned into mayo in the sun (an apt metaphor for the Cubs especially) and you've seen this all before from guys who are in over their heads. The Cubs aren't really designed to win anything this year, if they ever will be again given the money the Ricketts are happy to print with a .500 ballclub, so why Ross can't turn ABs and game time over to kids is a mystery no one can solve. Certainly, the Cubs have plans of building around more kids to come.
But then Ross was always overmatched. He was hired because he was buddies with Theo Epstein and the players from 2016, and everyone thought his dick-tapping celebrations were cute. His managerial career started out with pulling Javier Baez from a game for lackadaisical base running while simultaneously letting Rizzo get picked off for two weeks. Contreras was hung out to dry when he pointed out that his teammates didn't play hard and lacked leadership, but others closer to Ross were allowed to do the same. He was hired because the perception was Joe Maddon let his players simply do whatever they want, and that's only gotten worse under Ross.
But he's a nice guy, he's good with the media, and he'll do whatever the front office says, and that appears to be all that matters on the Northside. If the Cubs ever have designs on playing games that matter again, they'll do it despite their manager, and they'll probably lose those because of him.
---
Follow Sam on Twitter @Felsgate to watch him wrestle with firing the Cubs as his team and Ross making that fight easier.