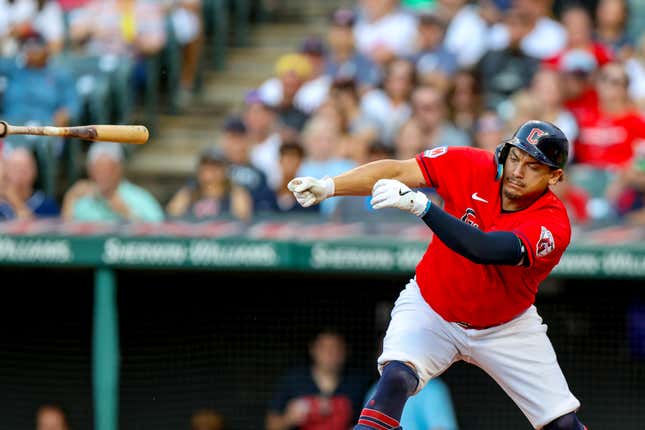 To hear Larry Dolan tell it, the Cleveland Guardians are the poster child for the unfairness in MLB. They can't run with the big boys of the American League, even though there are no big market teams in the AL Central, at least when the Tigers suck eggs (and the White Sox will never act like they play in Chicago, so no worries there). Cleveland has been the best pitching developmental team in baseball for years now, seemingly churning out a new effective starter every season while finding bullpen arms under every couch cushion or in every alley they check. But that's been the only plan.
Playing with Reggie Jackson | Chef Joe Bastianich
They've been without Shane Bieber and Triston McKenzie for a long while now, which only exacerbated their main problem for years. They haven't been able to produce any hitters of note, and they have no interest in getting them from outside the organization. It's Jose Ramirez and then eight guys that are heading to the plate with a Festivus pole. Kole Calhoun and Roman Laureano were hitting fourth and fifth for them yesterday, and neither were on the team a couple of weeks ago. They made a big stink about how they had an "alternative" offense as they won the Central, when really that was just cover for not producing or buying good hitters while the rest of the division just took the year off.
Still, this is the AL Central, where a pulse means a team can be in contention. Cleveland did win this division last year, after all. At the trade deadline, Cleveland was merely a game behind the Twins, though a game under .500. Still, win the division and a team gets at least two home playoff dates, which we know Dolan would care about. It might not amount to much, but winning a division is still winning a division.
But Cleveland declined. They sat out the trade deadline, basically declaring that winning the AL Central wasn't worth it, or that this team that was sitting one game behind the thoroughly unimpressive Twins wasn't capable. A team crying out for hitters decided there wasn't one that could help, or more to the point, there wasn't one worth paying for. They even punted Josh Bell aside, making it clear what their intentions were. Still, one could make an argument that a Tommy Pham, Jake Burger, or Jeimer Candelario could have swung the AL Central.
And Cleveland played like its front office gave up on them after the deadline. They went 11-16 in August, after going 28-24 in June and July — hardly a blistering pace but enough to be in the discussion in MLB's remedial class. They were five games back of the Twins and seven games under .500.
And then last week, Cleveland claimed Lucas Giolito, Matt Moore, and Reynaldo Lopez from the Angels after they launched all their ballast overboard before having to go through imperial scanners. They were in a far worse position than they were at the deadline, and yet decided to pick up stuff that was free to…well, no one's quite sure.
Yesterday, the Twins came to Cleveland for a three-game series that the Guardians really needed to sweep to even have a shred of hope of making the last three weeks of the season anything resembling interesting.
They gave up 20 runs, and had a catcher throw four innings in relief. A team that just claimed three new pitchers on waivers, mind, decided to let their backup catcher take the bulk of the work in a game that ended their season, effectively.
Cleveland decided they were out of it when they were in it, then that they were in it when they were out of it, and then said fuck it when they were supposed to be saying let's go for it. Certainly dizzying on the shores of Erie, no?
We know there's a passionate fanbase there, having drawn just about 2 million fans as recently as 2018 off the back of their World Series appearance. And yet there's never a signing or trade in an offseason to make Guardians fans think that the next season will be any different from the last, where they'll go as far as their in-house built rotation will take them before any player past the age of 27 worth a shit is soon traded.
And after this confounding month, there probably isn't much faith that the team even had a clear plan, even if that plan is as cynical as can be.
---
Follow Sam on Twitter @Felsgate and on Bluesky @felsgate.bsky.social