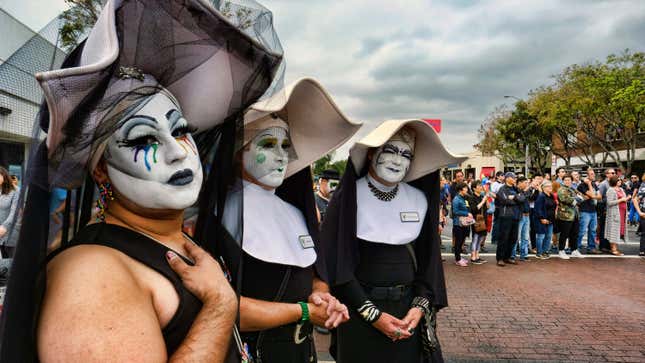 The reason it's called man-splaining is because men hate being lectured. We'd rather be the ones doing the preaching, and have everybody else do the listening. Even when we're wrong, we hesitate to admit it, and then when we finally do relent, we don't want to be told why we fucked up. We just want you to accept our apology, and keep it moving without the risk of actually understanding the fault of our ways.
Kyle Schwarber did something that's only been done 11 other times in MLB history | Stats That Will Blow Your Mind
That's a generalization for all men, so I apologize if that doesn't describe you, but it also can be applied to entities in positions of power. The unwillingness to even try to comprehend missteps is the reason it takes public backlash to get the Oakland A's to fire Glen Kuiper, or the Los Angeles Dodgers to reinvite the Sisters of Perpetual Indulgence to Pride Night.
Why does it take an overwhelming response for things to get done?
The response needs to be overwhelming, boisterous, and persistent, or else leagues and teams won't listen. If you're not snarling, you're not mad, and if you're not emoting anger, we'll assume everything is fine. It takes hours, days, weeks, and years of screaming at the highest volume to get anything done, and even then, that's not validation. Talking in a measured tone and remaining calm doesn't work; that's why civil discourse is nonexistent in today's society.
If it didn't take a tsunami of tweets and outrage for MLB to, y'know, listen, they might've understood sooner why people didn't want Kuiper back in the booth, or bigots dictating Pride Night. Instead, they were reactionary to the point of paralysis, and showed why they constantly need to be dragged into the 21st century.
I understand I am a white man doing quite a bit of man-splaining right now, but this is intended for the people of my ilk whose pride and ego won't allow them to admit that they don't fully understand the Black or LGBTQ+ experience. Admitting that you don't know what you're talking about and apologizing is the first step. Yet unless the necessary takeaway is absorbed, the powers that be will need to be told time and again what's right or wrong, rather than knowing it.
Listening is the key to understanding the difference between what's right and what's bigotry