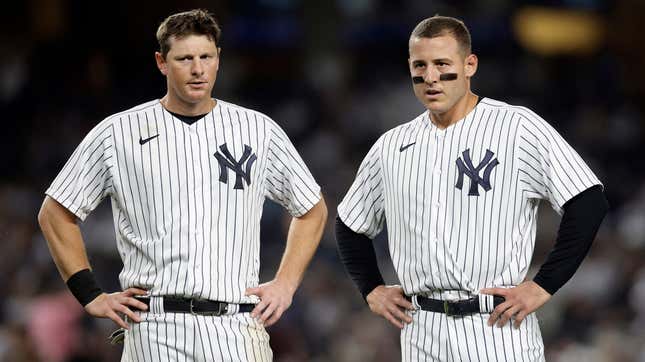 We're entering Brian Cashman territory with Aaron Boone. The Bronx at one point was the most hostile work environment in MLB. The standards were ridiculously high, and someone would've lashed out by now considering how long it's been since the New York Yankees ran the American League. The head of the front office has survived lulls, miscues, and an ongoing World Series drought, and the Yankees' skipper is currently in his seventh season despite what would have previously been many fireable offenses.

Should the Yankees send Anthony Volpe down to AAA?
This is supposed to be baseball's mecca, the standard for all franchises not just in MLB but all of sports. Desus Nice has been yelling 27 rings for too long, and after a while, the effect wears off, and you have to acknowledge a slump.
Bronx will be without Aaron Judge for a while
I mention all this because Aaron Judge tore a ligament in his toe and is out for an unspecified amount of time.
"I've got to knock out the rehab stuff," Judge said Saturday (per ESPN). "I've had different injuries over the years where it's going to take a while. It's not going to be perfect here in a couple of weeks. Once we can manage the pain, we're going to be in a good spot."
This next part is the key quote.
"I don't think too many people in here have torn a ligament in their toe. If it was a quad, we'd have a better answer," Judge said. "If it's an oblique or hamstring, we have answers and a timeline for that. With how unique this injury is, and it being my back foot, which I push off of and run off of, it's a tough spot."
That's not… ideal. Here's Boone's response, and you'd expect him to be a little more anxious what with the golden goose hampered and all.
"The reality is, we're without him right now, and we've got to find a way to get it done," Boone said. "We have the people in there to get it done, we just got to do a better job right now of putting pressure on the opposing pitchers and defense."
New York is a game away from being out of the Wild Card, and the team, as per usual when this happens, is lost without Judge. The fans and media are going to start looking for a scapegoat should the season go south in the ensuing weeks, perhaps months.
The Yankees are in the toughest division in baseball, the AL is a bear again, and why the fuck was Judge not in a glass case? His bat is more valuable than his underrated fielding, and screw Rob Manfred for this interleague bullshit with unfamiliar outfields and the Los Angeles Dodgers' janky ass bullpen door.
I've talked my shit about Judge's contract, and feigned enjoyment in the risks of overpaying him primarily because the Yankees have spent exorbitantly on star players for decades, and it never mattered. They absorbed bad deals like Homer did cannonballs, and kept churning out championships.
Where's the urgency, the irrational firings, the trades, the accountability, the straw that stirs the drink? Rob Pelinka took an old, tired Los Angeles Lakers squad and turned them into a Western Conference Finals team with a box of scraps. Chop, chop, Cashman. You've been above average at best and largely mid the rest of the time. Boone has been equally meh, and whichever Steinbrenner is in charge needs to shake the snow globe.
Yes, most of what I'm doing is gaslighting, but it's late June, and outside of NBA free agency in a week, there won't be anything that draws traffic other than stupid-ass NFL training camps.
I mean, this is so fucking dull. Flop your dick out, pop a nut, do something, New York. Superman just got an injection of kryptonite in his big toe. Where are the Super Friends? Justice League? Phase five Avengers?